NFL: Peyton Manning given tips from Eli for Super Bowl in New York
Peyton Manning will be getting some tips from little brother Eli about playing at MetLife Stadium at Super Bowl XLVIII.
Last Updated: 24/01/14 6:05pm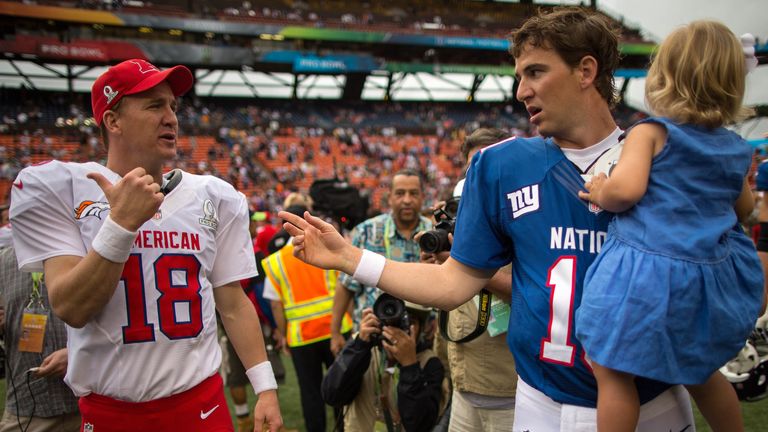 Peyton Manning will not only arrive at the Super Bowl on February 7 armed with the best offence in NFL history, but he'll also have some inside information on MetLife Stadium from little brother and Giants quarterback Eli.
Whilst Peyton is one of the best QBs ever to play in the NFL, little brother Eli has two Super Bowl rings to his one, something Peyton is aiming to even up by leading his Denver Broncos to a win over Seattle.
A Denver win would complete a great piece of symmetry as Eli won with the Giants two years ago in Indianapolis - in Peyton's then home Lucas Oil Stadium, and now Peyton can do likewise in his little brother's home ground.
Peyton will be leaning on his little brother this week to garner every last bit of information he can from him about playing at MetLife Stadium.
"I might have a few things for him, but I don't want to reveal that, because I don't want to give it to Russell Wilson," Eli said on a conference call. "So any tips I may have wind-wise, I would tell him in private.
"The old stadium definitely had a specific end zone and corner that you wouldn't want to throw into if it was going to be a windy night. If it is one of those windy days, then there is a little bit of local knowledge that you can give. But it's definitely not as bad as the old stadium."
It'll be a fifth Super Bowl for the Manning brothers, and although they both now know how to handle the occasion Eli is keen to lend a hand to his big brother to repay him for two years' ago.
Peyton plays PA
When the Giants took on, and beat, the Patriots, Peyton helped Eli out by handling ticket issues, organising restaurant reservations and basically dealing with everything non-football related that comes with being a Super Bowl quarterback.
This time, with Eli in his home town, he will act as host and PA for Peyton and help him to concentrate on matters on the field.
"He was very helpful in dealing with family and friends and taking that burden off me," Eli added. "We've learned in playing a few of these. You try to get all that stuff done this week."
The question will still come, of course, about Peyton's performances in cold weather, and whether he needs a second Super Bowl ring to be considered among the best QBs of all time - but Eli knows the answer to at least the second questions.
"I think he's already created his own legacy, and he's played at a very high level for a long period of time, has overcome injuries and obviously set numerous records and been on a lot of playoff teams and is playing in a third Super Bowl," Eli said.
"I don't think that's something that he's worried about. There will always been arguments about who's the greatest, who's the best.
"If you're in that argument, and your name is being thrown around in there, I think you've already created a pretty good legacy. He's a competitor and he wants to win championships. I think that's what he's thinking about."
Super Bowl XLVIII is live on Sky Sports on February 7 - you can also follow it on our Super Bowl blog online and on the Sky Sports apps