NFL Wembley: Sky Sports talks to NFL UK boss Alistair Kirkwood as tickets go on sale
By Paul Higham Twitter: @SkySportsPaulH. Last Updated: 21/01/14 10:16pm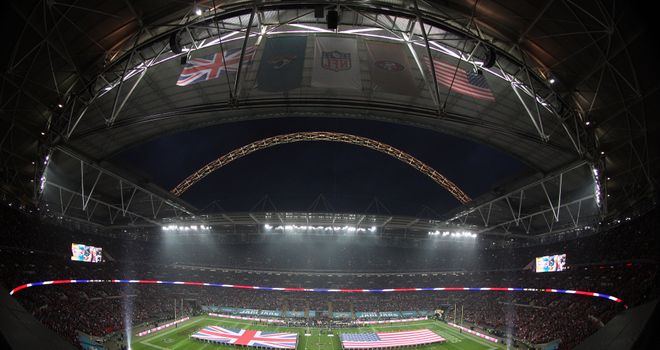 Wembley is to host three NFL games this year
American Football Betting

American Football Betting

Bet with Sky Bet
These are exciting times in the NFL, not only do we know who will contest the Super Bowl in New York next month, but across the Atlantic in the UK tickets have gone on sale for the biggest year yet of the International Series, with three games being played at Wembley this autumn.
Three London games is a huge step forward after two matches in 2012 - so it's a busy time for NFL UK managing director Alistair Kirkwood, the man charged with helping the sport grow in this country.
As tickets went on sale for Miami Dolphins v Oakland Raiders, Detroit Lions v Atlanta Falcons and Dallas Cowboys v Jacksonville Jaguars, Sky Sports caught up with Kirkwood at a busy NFL UK headquarters in London to talk ticket sales, future UK team hopes and the long process of picking teams to play over here.
Firstly, how are the early ticket sales for the 2014 International Series games going?
I'll be honest with you, this is the most nervous I've been in the time since we started selling tickets, as nervous as the first game we ever did. But it's gone really well so far - we're pacing ahead of the two games last year so kudos to all the fan base coming out in their droves.
We've got six teams coming in 2014, how do you go about selecting the games?
It's a really long process, the difficult thing is getting a home team because they've got to give up a home game, an eighth of their season, so with three games finding three teams to put their hands up involves a fair bit of work.
Once we've got the home team, we know seven of the eight matches. It's almost certain we won't do Divisional games so that leaves you with four games and we rank the games based on what we'd like.
It's not so much about money We actually lose money as a league in playing these games, it's much more about trying to grow the sport.
Who are the best supported teams in the UK then?
From our database of about 350,000 we've seen that the Patriots are the top team - but it's pretty evenly spread to be fair. The nature of the sport is that teams become good a year after having a bad season.
Our fan base is growing and we're getting younger fans in. Our older fans will go for the marquee team names from the 80s and 90s but the younger fans will maybe take more to teams who are prevalent now.
The number of people who said they'd now follow Jacksonville for their commitment to coming over was really impressive.
So are the Jaguars getting a fan base over here after signing up to play four games at Wembley?
We do like an underdog here as well, but the NFL fans who come to London games are very knowledgeable and appreciate that it's hard work to get a team to come over and they note that if it wasn't for Jacksonville they wouldn't get to see the Dallas Cowboys.
If Jacksonville do over the next two or three years do what the Chiefs and Colts have done and really turn things around, then what a great journey that'd be for UK fans to say they've seen them building from their lowest.
Oakland have their infamous Black Hole fan section, is it true they're coming to Wembley?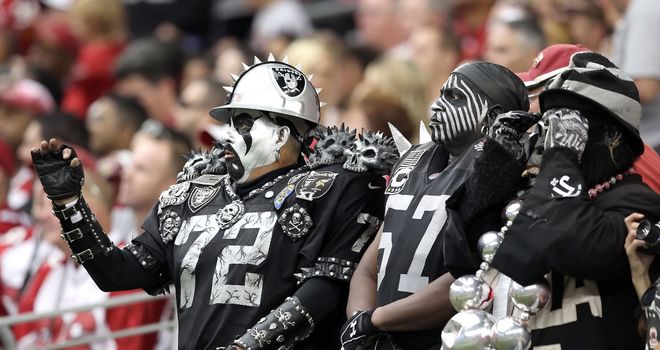 Watch out for these Raiders fans at Wembley
We don't go on sale with US fans until we've finished here but we have an agreement with Oakland to facilitate the Black Hole being replicated, I'm sure it's not going to be on their usual scale but it'll be very noticeable.
We should probably warn fans on the tube and stuff to expect to see some very interesting people.
The Falcons v Lions will be a morning kick-off in the US, is that a big step?
It certainly is - it'll kick-off at 9.30am Eastern time, so 6.30am in California - it's a long day of sport but I'm sure the fans will love it. It's something that we asked for to test a little while ago -it's the first game we've had which will be on in 100 percent of the country in the States.
We get a national window, everyone will be able to see a British crowd really get behind it so I'm really happy how that's worked out. We'll find out a lot more if that creates a better atmosphere than a late kick-off.
Any thoughts of a game away from Wembley somewhere else in the UK or Ireland?
Not right now, no. There are many good reasons why we stay in London and the most important is probably the least obvious and that's we're asking a massive team organisation to come in the middle of their season in the most compressed season in any sports league.
Sometimes it's the first and only time these players will play abroad so you need to minimise the unknowns so if you can keep them in the same hotels, same training bases as other teams have been, then their people can make the arrangements much more easily.
For them it's a business trip, that's the good and bad thing about a regular season game is that it matters and because it matters we always need to remember that and although it would be nice to do certain other things, first and foremost it's about the teams coming here.
We've also got an agreement with Wembley through 2015-16 and that ensures we've got certainty to be able to plan with. So while I appreciate fans around the country would like games to be closer we need to stick to Wembley for now.
NFL commissioner Roger Goodell seems fully behind a UK team - is it any closer?
He's really supportive of everything we do. But you're only as good as your last game, and every time we stage a game we try to make it the benchmark. Last year was a benchmark going to two games and then quickly we're going to three.
It's all about momentum and at the moment off the field in this country we've got momentum, so we just want to keep that going at the same pace. But there's no timescale about any proposed UK team, it's about getting it right.
All tickets for the three NFL games are on sale now via www.ticketmaster.co.uk/NFL.