NFL wildcards: Colin Kaepernick stars as San Francisco 49ers beat Green Bay Packers
By Paul Higham Twitter: @SkySportsPaulH. Last Updated: 06/01/14 11:25am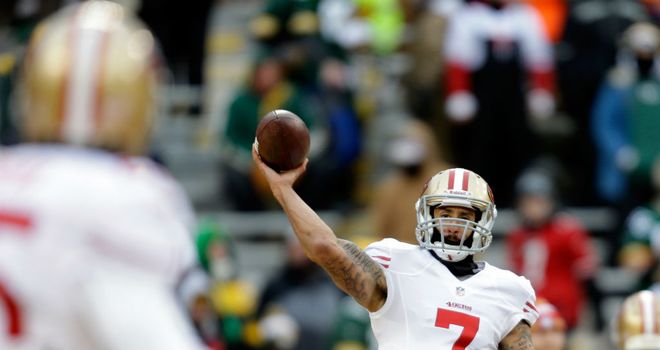 San Francisco led by Colin Kaepernick against Green Bay
American Football Betting

American Football Betting

Bet with Sky Bet
The San Francisco 49ers beat the Green Bay Packers for the second year running in the play-offs with a late field goal giving them a 23-20 success at a freezing Lambeau Field.
A game of several momentum changes saw defences on top at first before quarterbacks Aaron Rodgers and Colin Kaepernick started to shine - but it was the 49ers man who again came out on top.
Kaepernick exploded onto scene with a memorable display in last year's play-offs, and although his numbers were down he was just as effective with 227 yards passing and a touchdown along with 98 yards rushing as he led the Niners in the running game as well.
Included in those yards were several big runs for first downs at crucial stages, and the Packers could just not find an answer for him for the second year running.
Although it was freezing at Lambeau Field, record low conditions did not materialise, and did not affect the 49ers who roll on to the divisional round and a clash with the Panthers, who have already beaten them this season, in Carolina on Sunday.
Dominant defence
San Francisco started the game off looking utterly dominant on defence as the hustled and harried Aaron Rodgers, who went the entire first quarter without a completion or a first down.
The 49ers were moving the ball with ease, but while Green Bay's defence was giving up yardage in chunks they made a couple of brave goal line stops and limited them to just two Dawson field goals.
After having his way with the Packers defence, Kaepernick was intercepted in the second quarter by Tramon Williams, and that gave Green Bay some momentum to get back into the game.
With just six yards to their names before the pick, the Packers marched 70 yards in 14 plays culminating in Rodgers firing a five-yard pass to Jordy Nelson to go in front 7-6.
The 49ers were still able to move the ball, and after a brilliant Kaepernick run, Frank Gore did the rest from ten yards out to put them back in front - where they stayed at half time with Green Bay only adding a field goal for 13-10.
In the balance
Rodgers made some wonderful plays in the third quarter to get Green Bay in front, escaping from numerous sack attempts to find Randall Cobb with a 26-yard play to get them down to the goal line, where John Kuhn stepped up to punch it in.
Kaepernick has proven a thorn in Green Bay's side twice before though, and he again he saved his best for Green Bay - with a 24-yard run followed by a superb 28-yard TD pass to Vernon Davis showing his ability to beat teams with both his arm and his legs.
That 63-yard drive provided the fourth lead change of the game, but Rodgers had found his rhythm and move his team within range again, but this time, crucially, the Niners came up with the top and the Packers had to settle for a field goal to tie the game.
It gave the Niners five minutes to go and win the game, but they nearly stalled when Micah Hyde looked like intercepting Kaepernick but he was unable to hold on and the crowd sensed that could be a huge missed opportunity.
And so it proved, as kaepernick raced away for a huge first down soon after, before Gore collected another and that allowed them to run the clock right down and Dawson converted a 33-yard field goal as time expired to send them through to a divisional clash with Carolina.