NFL: Redskins, Buccaneers, Lions, Browns and Vikings all fire head coaches
Last Updated: 30/12/13 7:56pm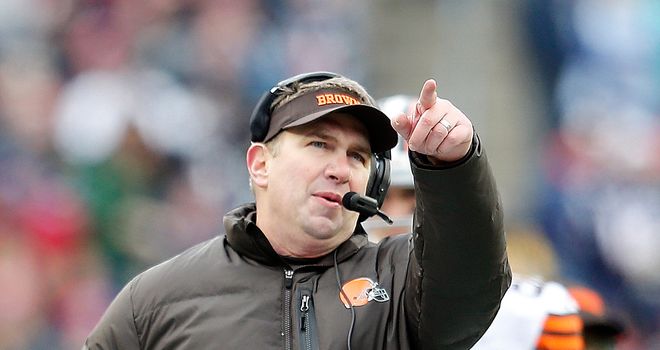 Rob Chudzinski: Fired by the Cleveland Browns after just one year in charge
American Football Betting

American Football Betting

Bet with Sky Bet
Five NFL coaches have been sacked so far on 'Black Monday' after failing to guide their teams to the playoffs.
Tampa Bay's Greg Schiano and Detroit boss Jim Schwartz have become the latest to go, joining Cleveland's Rob Chudzinski, Mike Shanahan of the Washington Redskins and Leslie Frazier of Minnesota Vikings.
The Bucs fired Schiano a day after a season-ending 42-17 loss to the New Orleans dropped his overall record to 11-21 over two seasons.
Bucs co-chairman Bryan Glazer said the team has "not lived up to our standards" over the past two years and "we believe the time has come to find a new direction."
Coaches fired on 'Black Monday'
Rob Chudzinski (Browns)
Leslie Frazier (Vikings)
Mike Shanahan (Redskins)
Greg Schiano (Buccaneers)
Jim Schwartz (Lions)
Tampa Bay lost the first eight games of the season while going through a messy split with former quarterback Josh Freeman and an outbreak of MRSA infections in the locker room.
The Detroit Lions finished the season with a 7-9 record after a 6-3 record start put the franchise in a position to win a division title for the first time since 1993.
Schwartz was 29-51 over five seasons, including a 10-6 mark in 2011 that lifted the Lions to their only postseason appearance this century.
Whilst the coaches who reached the playoffs can look ahead, many of those who did not fear the sack on 'Black Monday.'
The Redskins had a hugely disappointing season, a 3-13 record, and Shanahan and his entire coaching staff - including his son Kyle, the team's offensive co-ordinator - were fired on Monday.
Shanahan, who still had one year remaining on his contract, went 24-40 in his four-year reign.
Poor results
"Redskins fans deserve a better result," owner Dan Snyder said in a statement. "We thank Mike for his efforts on behalf of the Redskins. We will focus on what it takes to build a winning team, and my pledge to this organization and to this community is to continue to commit the resources and talent necessary to put this team back in the playoffs."
The Browns' weekend defeat was their seventh-straight loss and saw them end yet another disappointing campaign with a 4-12 record, the worst in the AFC North.
Chudzinski's first and only year with the Browns was a rocky one, as the team faced injuries to both the starting and backup quarterbacks and never found consistency.
Cleveland also traded their 2012 first-round draft choice (third overall) running back Trent Richardson just two games into the season.
"We appreciate Chud's passion for the Browns, and we have great respect for him both personally and professionally," the Browns said in a statement.
"We needed to see progress with this football team. We needed to see development and improvement as the season evolved and, unfortunately, we took a concerning step backward in the second half of the year."
Chudzinski, a lifelong Cleveland fan, said he was "shocked and disappointed" at being fired. "I am a Cleveland Brown to the core, and always will be."
The Vikings went 5-10-1, but unlike last year they failed to reach the playoffs. "We have tremendous respect and appreciation for Leslie and what he has done for the Minnesota Vikings," owner Zygi Wilf said.
"He stepped in and established a strong positive culture here, and he has been the consummate professional as our head coach and in this community. Making this change is difficult but what we determined is best for the organisation."
One man who is not looking for a new job is Tom Coughlin of the New York Giants, despite missing the playoffs for the fourth time in five seasons.
Giants co-owner John Mara told the 67-year-old Coughlin on Monday morning that he wants him to return for an 11th season with the team that he led to Super Bowl titles in 2008 and 20012.
The New York Jets have said they will keep Rex Ryan after going 8-8 and failing to make the playoffs.