NFL: Philadelphia Eagles race away from Detroit Lions in blizzard-hit contest
The Philadelphia Eagles overcame atrocious conditions to go top of the NFC East with a 34-20 win over the Detroit Lions.
By Alex Williams
Last Updated: 09/12/13 1:54pm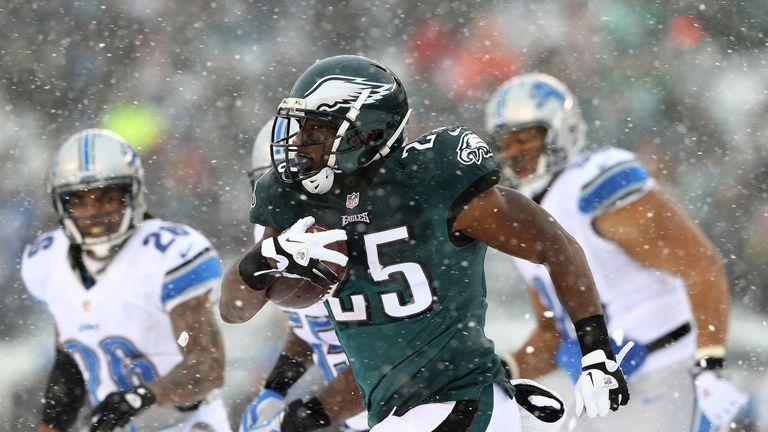 A fierce blizzard severely reduced the effectiveness of the passing game, allowing Eagles running back LeSean McCoy to rush for a franchise-record 217 yards and two touchdowns.
Calvin Johnson also broke the Lions franchise record for all-time receiving yards, but Detroit ultimately missed a chance to put clear air between themselves and the rest of the NFC North.
The conditions were at their worst at the start of the contest and both sides struggled mightily to mount any kind of offence in the first quarter, although the Lions looked the more threatening.
It was a Philadelphia turnover which would lead to the first score of the game, Eagles quarterback Nick Foles throwing his first interception of the year to set up Detroit in the red zone.
Running back Joique Bell then made amends for two lost fumbles by running in a two-yard score and the Lions, opting not to kick an extra point with so much snow underfoot, were successful with a two-point conversion.
Snowfall
The snowfall had let-up slightly by the start of the second half, which was just under six minutes old when Detroit's Jeremy Ross took a punt return 58 yards to the house, with the two-pointer this time failing.
Philadelphia then finally sparked into life when Foles led them on a 74-yard drive which ended with him finding DeSean Jackson in the end zone for a touchdown.
The Eagles also opted to go for two and failed, but were in the end zone again shortly after thanks to a spectacular 40-yard run from McCoy and this time the two-point conversion was successful when a penalty allowed them a retry.
That made it 14-14, but the scores would not be level for long as Ross took the ensuing kick-off 98 yards for his second return touchdown of the day. An offensive penalty backed the Lions up on the two-point attempt and forced them to try to kick an extra point, which was blocked.
The tide turned again just three snaps later as McCoy broke free for a 57-yard touchdown run and Riley Cooper caught the two-point conversion to put Philadelphia in front for the first time.
Some more explosive running from McCoy took the Eagles right back down to the Lions goal-line and Foles sneaked it in on fourth down before the two-pointer failed.
By this point Philadelphia were trampling all over the NFL's No 3 running defence and third-string tailback Chris Polk wrapped up the win with a 38-yard scamper into the end zone.