NFL: Pittsburgh Steelers coach Mike Tomlin fined by league for Baltimore move
By Paul Higham Twitter: @SkySportsPaulH. Last Updated: 04/12/13 5:30pm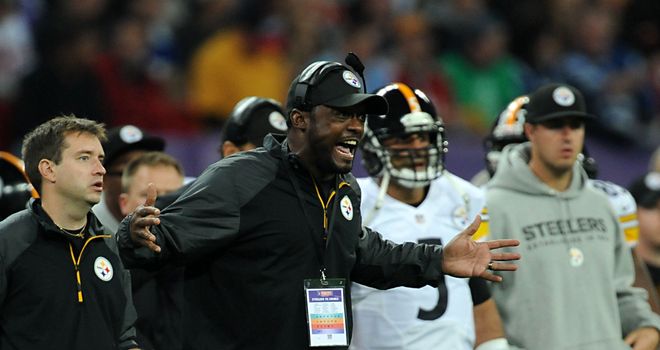 Mike Tomlin: Could lose a draft pick as well as big fine
American Football Betting

American Football Betting

Bet with Sky Bet
Pittsburgh Steelers head coach Mike Tomlin has been fined $100,000, and the team could yet lose a draft pick for him obstructing Baltimore's Jacoby Jones during their Thanksgiving game.
Tomlin was watching Jones' kick-off return on the big screens at Baltimore's M&T Bank Stadium last Thursday and strayed just onto the field of play as he did so.
Jones was galloping down the same sideline and had to alter his path slightly as he came close to slamming into Tomlin, and he was then caught by Steelers defenders to prevent a touchdown from being scored.
Luckily for all concerned the Steelers lost the game so the play did not affect the result too much - but the NFL have still come down hard to try and discourage coaches from straying onto the field in the future.
The Ravens hit out at Tomlin immediately, and claimed he knew exactly what he was doing despite him protesting his innocence.
NFL vice president of officiating Dean Blandino told NFL Total Access that Tomlin should have been flagged for unsportsmanlike conduct for his transgression - as league rules state that is the punishment for stepping on the white boundary line during a play.
Unsportsmanlike conduct
"Any time a player or a coach from the sideline is in this white area, that's a 15-yard penalty for unsportsmanlike conduct," Blandino said. "If they interfere with the play, it could be what's called a 'palpably unfair act.'
"In that instance, the referee could basically penalize the team whatever he deems equitable, which could include giving the Ravens a touchdown. That's not the case here, but certainly coach Tomlin was in the white. He should have been flagged for unsportsmanlike conduct."
As well as hitting Tomlin in the pocket, it could also have a detrimental effect on the Steelers' 2014 Draft, with the NFL looking into either taking away or modifying a pick in next year's Draft.
"In addition, because the conduct affected a play on the field, a modification or forfeiture of draft choices will be considered after the final order of the 2014 draft has been determined," read a statement from the league.
Tomlin has already accepted full responsibility, but has repeatedly insisted that he did not deliberately try and affect the play.
"I take full responsibility for my actions on the play," Tomlin said. "I acknowledge that my actions unfortunately became part of the play.
"At no time Thursday night in the game or after, did I realise that my actions would be perceived potentially, or could be perceived potentially as intentional."