NFL: Pittsburgh Steelers coach Mike Tomlin accepts responsibility for Ravens blunder
By Paul Higham Twitter: @SkySportsPaulH. Last Updated: 03/12/13 7:47pm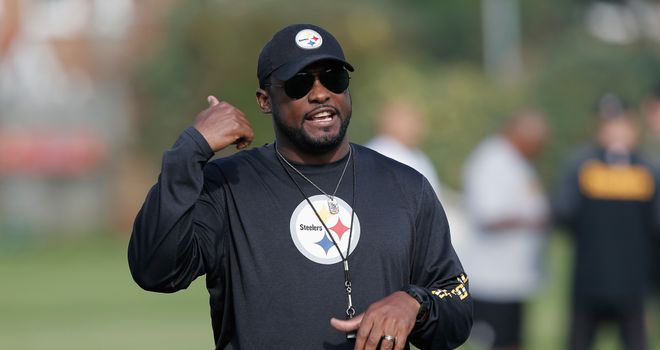 Mike Tomlin: Pittsburgh boss in hot water with the NFL
American Football Betting

American Football Betting

Bet with Sky Bet
Mike Tomlin says he will accept any punishment the NFL throw at him following his straying onto the field during Pittsburgh loss at Baltimore on Thanksgiving that almost caused a huge controversy.
Tomlin was watching a kick return by Baltimore's Jacoby Jones on the big screen during their Thanksgiving game at the Ravens, but he strayed just onto the field and almost caused a collision with Jones who was bursting down the sidelines.
Tomlin has continually insisted his actions were not deliberate, but the NFL are examining the incident and reports suggest they could make an example of the Steelers coach to the tune of a $100,000 fine and the loss of a Draft pick.
During his Tuesday press conference, Tomlin accepted all responsibility and said he deserved whatever punishment the NFL dished out in order to preserve the integrity of the league.
"As head coaches, we're held to higher standards of conduct, and that blunder fell woefully short and in that vein I accept the repercussions of a blunder of that nature," Tomlin said. "I embrace it. With my position comes preserving the integrity of the game of football.
"I think probably my biggest error on Thursday night is not realizing that that play jeopardised the integrity of the game from a perception standpoint.
Intentions
"At no time Thursday night in the game or after did I realise that my actions would be perceived potentially, or could be perceived potentially, as intentional. That's a mistake on my part.
"As someone in my position that's supposed to preserve the integrity of the game of football, I should have realized the potential for that and acted accordingly. I didn't realise the potential. Really, I was focused on the blunder itself, the embarrassment it produced and moving my football team past it.
"I will take this unfortunate incident - this blunder on my part - and in doing so, I will honour to stand up and champion our game, and in particular, the National Football League, and the integrity of that.
"It's all that I have professionally. It's been very good to me in my life, and to be honest with you, quite frankly, the winning of any game is not important enough for me to jeopardise that."
Whilst taking full responsibility and refusing to defend his action, he insisted though that he was not deliberately trying to obstruct Jones.
"I would never do such a thing," Tomlin added. "I would never consider doing such a thing. But it was a blunder nonetheless."