NFL Thanksgiving Day: Green Bay Packers face Detroit Lions live on Sky Sports
Green Bay Packers guard Josh Sitton called the Detroit Lions 'dirtbags' ahead of their Thanksgiving clash on Thursday.
Last Updated: 27/11/13 4:46pm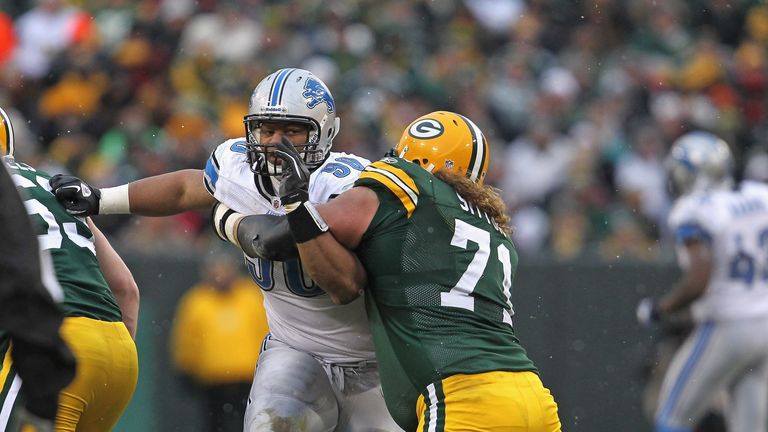 Often there is talk of two teams not liking each other to try and hype up a game, but Packers guard Josh Sitton has provided the pre-match build-up all by himself by labelling Detroit 'a bunch of dirtbags'.
The way results are working out, and the way the NFC North teams are playing, three of them look like vying for just one play-off spot going to the division champions - meaning this divisional dust-up takes on even more significance.
Detroit and Chicago are tied at 6-5 with Green Bay 5-5-1 after last week's tie with Minnesota, and without star quarterback Aaron Rodgers they are clinging on by a thread. A loss against the Lions would leave them with a mountain to climb.
Rodgers is back training after a broken collarbone but has seemingly no chance of suiting up against Detroit - who would surely go after his troubled left shoulder as much as they could - legally or otherwise according to Sitton.
Dirty Detroit
"I don't think there's any question about that. They go after quarterbacks," Sitton told WSSP-AM radio in Milwaukee. "Their entire defence takes cheap shots all the time, that's what they do, that's who they are.
Sitton went even harder on Lions head coach Jim Schwartz and the rest of the coaching staff in Detroit - although he was doing them a favour in saving them from having to write a pre-game team talk for their troops.
"They're a bunch of dirtbags, or scumbags. I mean, that's how they play."
"It starts with their frickin' coach," Sitton said. "Starts with the head coach, Schwartz. I wouldn't want to play for him. Starts with him, their D-coordinator and their D-line coach. They're all just scumbags, and so are the D-line."
These teams have previous as well - often controversial Lions defensive tackle Ndamukong Suh was ejected after stamping on Packers offensive lineman Evan Dietrich-Smith in a Thanksgiving game two years ago.
Team news
Although Rodgers is back practising, coach Mike McCarthy insisted his chances of playing are virtually non-existent - and they look set to start with Matt Flynn who came in for a struggling Scott Tolzein on Sunday.
The Packers have lost three and tied one of the four games Rodgers has missed including the game he was injured in early on, and their scoring average has plummeted from 30.3 points per game down to a lowly 18 - they need him back but will hope Flynn can get the win against Detroit to keep them in the hunt.
Both teams' form is poor - Green Bay are without a win in four for the first time since 2008, while Detroit have lost back-to-back games for the first time this season and have a dreadful 1-15 recent record against Thursday's opponents.
Quarterback Matt Stafford needs to improve his recent accuracy issues, which hampered them in their surprise defeat to Tampa Bay on Sunday, if they are to stand a chance, although he dismissed calls from running back Reggie Bush for an emergency player meeting.
"I don't think it's necessary," Stafford said. "This is a team I've been around for a while, and we have strong leaders on this team. We can get it taken care of just in individual groups. We've got leaders at every position, and guys know what it takes to win in this league."