NFL: Green Bacy Packers tight end Jermichael Finley has spinal surgery to save career
Green Bay tight end Jermichael Finley has chosen to undergo spinal fusion surgery in a bid to save his NFL career.
Last Updated: 14/11/13 10:40am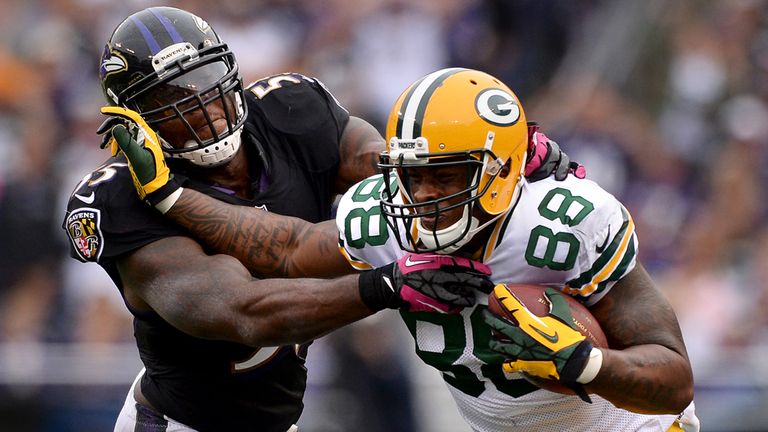 Finley was taken off the field on a stretcher after suffering the nasty neck injury against the Cleveland Browns last month, and he was diagnosed with a spinal contusion.
The 26-year-old suffered temporary paralysis but was able to walk out of hospital days later, and he has now set his sights on being able to return to NFL action one day.
The Packers have placed Finley on injured reserve and with his contract expiring after this season, his future in Green Bay looks bleak, but so also does his career.
His agent Blake Baratz has been keen to insist though that the surgery is not necessary, but is a pro-active move from Finley to make sure he is able to play again.
"We have collectively determined that while surgery may not be 100 percent necessary, it is a proactive measure that should alleviate future risks with regards to a similar episode or re-injury," Baratz said.
Playing return
"Once surgery has been completed, Jermichael has every intention of resuming his football career, and we fully support his efforts to do so."
"First and foremost, Jermichael's long-term health is our primary concern. While his return to professional football is a hot topic of conversation, his ability to live a long and fulfilling life with his loved ones is by far and away our main objective.
"Regarding Jermichael's specific injury, it is important to note that expert opinions differ across the board, from surgical procedures to rehabilitation methods to returning to contact sports.
"Working alongside the Packers organisation, we have discussed and analysed all of these opinions, as well as all of the potential scenarios moving forward."
Finley has 223 catches for 2,785 yards and 20 touchdowns midway during his sixth season at Lambeau Field, but injuries have hampered him before from fulfilling his potential as a highly dangerous tight end.
With undeniable talents, Finley would ordinarily find a new team with no problems if he was not re-signed by the Packers, but it remains to be seen just how surgery will remedy his severe neck problems.