NFL in London: Kevin Cadle says Europe could get behind a team in London
Kevin Cadle would love to see an NFL team in London, saying it would be a team for the whole of Europe to get behind.
Last Updated: 04/10/13 2:47pm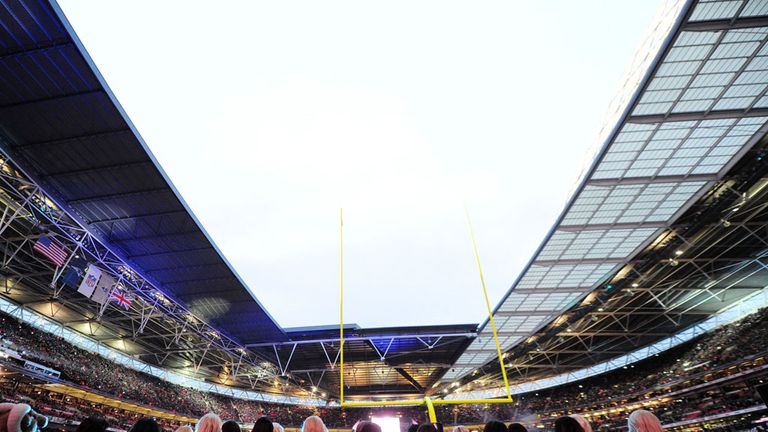 The success of the latest NFL game at Wembley brought about the inevitable questions over whether a team will ever be based outside of America.
If it is to happen, all signs point to it being in London, with two games being held at Wembley this year and the possibility of three next year.
The NFL seem set on bringing a team to London at some point in the future, but Sky Sports' NFL anchor Cadle says he cannot see it happening for some time yet, and was keen to point out that it would be an international team for the whole of Europe, not just London.
"It was a fantastic weekend, starting with the Block Party on Regent Street, but then the game, it goes down to the last ten seconds to decide if a team will win it or lose it you can't ask any more than that," said Cadle.
"I think a London franchise is still a little bit of a ways off, if it does happen I don't see it happening in the next seven to ten years, I don't see it happening before that time.
"There's a lot of things that need to be ironed out first - economics, the tax system, so a lot of things to be looked at before that could become a reality.
Europe's team
"It'd be great though, it would be fantastic. The thing is it'd be more than just a franchise for London, it would be an international franchise because you'd have people coming in from all these different countries to come and support the team.
"That's the thing that is has, it would be supported from all around Europe, it would not just be a London, England or Great Britain franchise but it would be more of an international type franchise.
"That's what the NFL is trying to do, to get it to a point where it continues to grow because right now it's basically an American sport, so they're trying to branch it out.
"And the most perfect place in the world of any city for them to branch out to is London - one is the short trip to most places, two is the language and then the culture, people when they come here they love everything London offers culturally."
A predicted more to three games next season could be another test of whether the London market could support a team, and Cadle thinks the masses of support for all the different NFL teams will help keep the games popular.
"If you have the three games then we'll see what happens, we'll see how well those three games sell out. Hopefully it's three teams that match up pretty well with each other, and if so then I think they will sell out.
"There's so many different teams out there, at the games you have jerseys from all of the 32 teams in the league that people will wear so whatever the teams are there'll be interested fans who want to come and support them."