NFL: Quarterback Josh Freeman heading for Tampa bay exit door
The Tampa Bay Buccaneers are looking to get rid of quarterback Josh Freeman as quickly as possible.
Last Updated: 03/10/13 9:16pm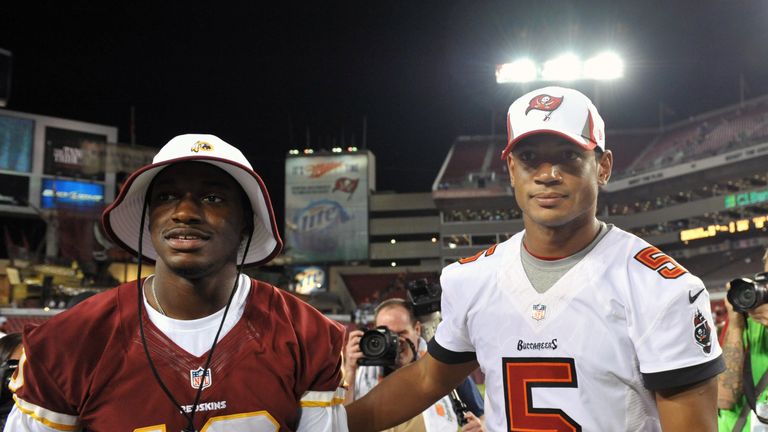 Freeman's indifferent form this season led to him being benched in favour of Mike Glennon, but the quarterback was far from happy with that decision and had called to be released or traded by the team.
Coach Greg Schiano didn't include Freeman in his squad for Sunday's game and the quarterback wasn't even allowed on the sidelines - instead being told to watch from a box at Raymond James Stadium.
Amongst all of this, reports then emerged of Freeman being in the NFL's substance-abuse program, which prompted him to release a statement clearing up the reports - and insisting that he had never failed any drug tests.
"Let me be very clear. I have NEVER tested positive for any illegal drugs or related substances. Further, I have agreed to take, and have PASSED 46 NFL-regulated drug tests over the last year and a half," read the statement from Freeman.
"Since the confidentiality of my medical status has been publicly violated, I am choosing to address this matter so that grossly erroneous assumptions about me do not persist.
Prescribed
"Like millions of Americans, I have ADHD and I have been prescribed and permitted to take medication to treat this condition for the entirety of my NFL career.
"Well over a year ago, I took a different medication for the same condition (Ridilin rather than Adderall), and to assure everyone that the error was a one-time mistake, I agreed to be voluntarily tested in the "NFL Program".
"Since that time, I have taken and passed all 46 drug tests I've been given, which test for every drug and banned substance imaginable.
"I agreed to allow such testing to be done at my workplace (team facility) because I spend all of my time there and I have nothing whatsoever to hide or be embarrassed about."
Freeman also voiced concerns raised in a few quarters that the reports could have been leaked by the team themselves.
"Unfortunately, it appears that some people who may have noticed the testing at my workplace have made hurtful and incorrect assumptions and chosen to disseminate inaccurate and very disturbing information," he added.
"It is a shame that when times have gotten tough, people have chosen to attack the character of others, rather than supporting each other. I remain dedicated and focused to being the best quarterback I can be and to help a team win a championship."