NFL: The end for Mark Sanchez at the Jets after season ending surgery?
The troubled Mark Sanchez era at the New York Jets could well be over as he is set to miss the rest of the season.
Last Updated: 01/10/13 11:10pm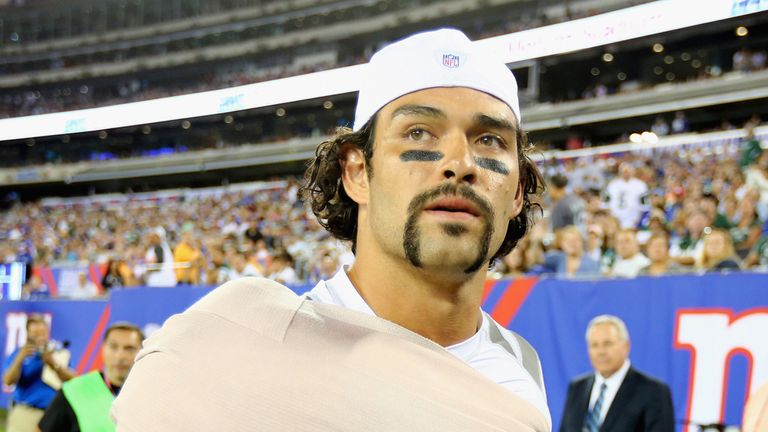 Quarterback Sanchez had wanted to avoid surgery on his shoulder injury and go the rehab route, but it now seems that an operation is inevitable and that would end his season for certain.
The Jets placed Sanchez on injured reserve but with a designated to return tag when he went down with the shoulder injury in pre-season, but he now will definitely not be coming back to action.
Sanchez faces a six-month road back to fitness after surgery, which rules him out of the season but would get him back in action for free agency.
Sanchez joined Ben Roethlisberger as the only QB to reach the conference championship game in his first two seasons in the league as he started well following his first round selection by the Jets.
Slump
Yet drafting fellow quarterback Geno Smith this year was a clear sign that the team wanted to move on from Sanchez, and the injury in a way gives them that chance, but Smith has hardly been a massive improvement so far.
Smith has 11 turnovers in just four games so far, but has shown glimpses of potential and coach Rex Ryan insists he has no thoughts of benching him just yet.
"It's not a thought at this point right now," Ryan said. "You can't buy experience, but with that being said, we still have to do a much better job - Geno, in particular - of protecting the football at all costs.
"You can't be nonchalant about it, you have to protect the ball."
Ryan is desperately short of options so may well just give Smith the season to prove himself, but even with Sanchez now out of the equation it seems like the quarterbacks sagas surrounding the Jets could still continue.