Minnesota Vikings relieved to claim first win of NFL season at Wembley
Last Updated: September 30, 2013 12:26am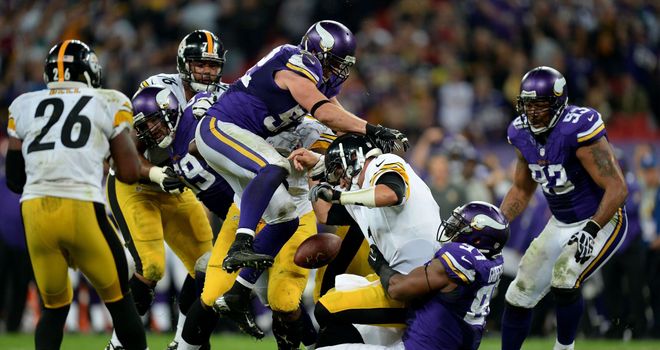 Everson Griffin hauls down Ben Roethlisberger to seal victory
American Football Betting

American Football Betting

Join the Free Bet Club
The Minnesota Vikings were delighted with their performance at Wembley Stadium after claiming a much-needed "home" win in London.
Adrian Peterson scored two touchdowns and quarterback Matt Cassel threw for two more as the Vikings clinched a 34-27 win over Pittsburgh.
Both teams had arrived for the first of two International Series games in London without a victory in three games, but the Vikings gave their season a kick-start in front of 83,519 fans.
"It feels great to get a first 'home' win of the season even if we had to come all the way to London to get it," said Minnesota coach Leslie Frazier. "I think I'll always have a special place in my heart for Wembley Stadium.
"Thank you London for helping us get that first win. With all the noise we felt at times like we were back at home. All that purple was terrific."
Peterson, the reigning NFL MVP, added: "The atmosphere was electric. Coming out of that tunnel, looking at all that purple yellow, I feel like we trumped them a little, and all that energy it felt like a home game."
The Vikings have suffered two final-minute defeats this season, and the Steelers threatened to inflict a third when they drove to the six-yard line with 22 seconds remaining.
But Ben Rosthlisberger fumbled as he was sacked by Everson Griffin, and Cassell took a knee to end the game.
"I didn't let my mind go there," Peterson said of the prospect of another late loss. "Instead of thinking that I was focused on thinking the defence is going to be able to stop them."
Frazier added: "There is a sense of relief for sure. We had some tough losses.
"In the fourth quarter of those games we were right there, so to come away with a win in the fashion we did, knowing what it takes to keep the team together through tough losses, I'm very happy."