NFL Wembley: Pittsburgh Steelers coach Mike Tomlin on Minnesota Vikings game
By Paul Higham Twitter: @SkySportsPaulH. Last Updated: 28/09/13 12:47pm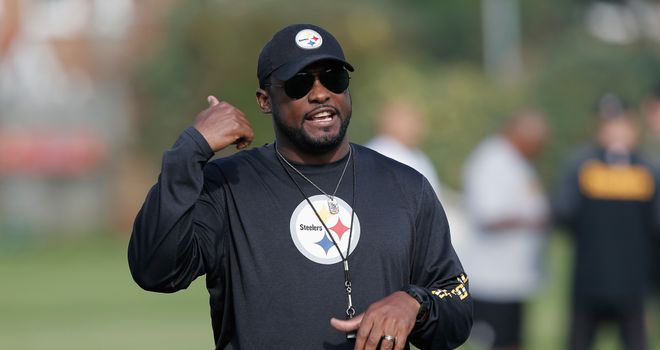 Pittsburgh Steelers head coach Mike Tomlin in London
American Football Betting

American Football Betting

Free Matched Bet
The Pittsburgh Steelers arrived in London with head coach Mike Tomlin's words ringing in their ears - that they are on a business trip not a holiday.
Pittsburgh are 0-3 for the first time in 13 years, and losing their fourth game at Wembley on Sunday would all-but end their season even this early, something that is almost unheard of for the six-time Super Bowl winners.
The Steelers flew in late for the game, only touching down on Friday morning, but Tomlin is keen for them not to get carried away with playing across the Atlantic and see it merely as just one more game.
"I'm not here for a vacation, I am here to work," coach Tomlin. "My focus is obviously on the game but I recognise the position we are in and I've got a level of respect for it. I'm honoured to represent the game of American football here.
"We have yet to win a game and there's a certain amount of urgency that comes with that but nothing out of the ordinary and nothing that is going to be counter-productive to our focus and efforts for this game."
The coach's words have obviously been clearly heard by his players, with quarterback Ben Roethlisberger adding: "For us every game is a must-win. That's the way we approach every game. The only difference this week is that we're in a different country."
Focused
Defensive end Brett Keisel will be trying to keep his players focused on the win, but he thinks they need to accept that this game will be slightly different to the norm.
Come and join the NFL party
"We have to win a game and we are hoping our trip to London will bring us that win," said Keisel. "We are approaching this like a normal week, but it's going to be different and everyone knows it's going to be different. We just have to focus on winning the game, even though we are going across the water.
"I think everyone is aware of the importance of getting a win, but I will definitely be in guy's ears."
Linebacker Chris Carter was also towing the Tomlin line, and he thinks their shorter stay in the UK will stop them from getting distracted from their main aim of getting a first win of the season.
"It's definitely a business trip," said Carter. "Everybody on the team gets the gist of that when you see the schedule. This isn't a vacation, the game just happens to be in London. At the end of the day we are still playing the Vikings and have to get a victory and bring it back.
"Everybody is able to stay in, stay focused and keep your eye on the prize. When you go for a longer time you get free time and you want to do things. But we are going to be focused on the task at hand which is the game. We have to stay focused on the things we can control and need to do."