NFL: San Francisco 49ers beat Green Bay Packers as Colin Kaepernick and Anquan Boldin star
By Paul Higham Twitter: @SkySportsPaulH. Last Updated: 09/09/13 1:50am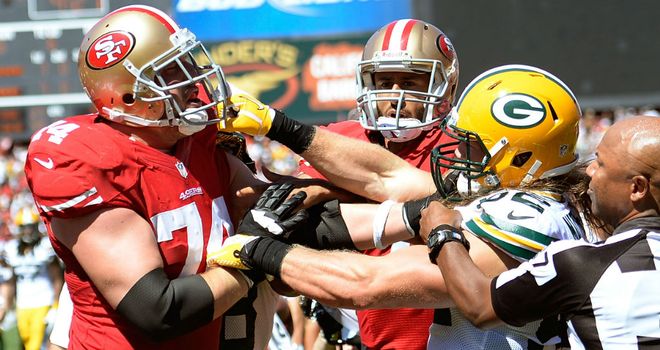 Green Bay and San Francisco get stuck into each other
American Football Betting

American Football Betting

Free Matched Bet
The San Francisco 49ers showed no signs of a Super Bowl hangover with a superb 34-28 victory in a high-octane game against the Green Bay Packers.
Colin Kaepernick destroyed the Packers in the play-offs last year with his running ability, but this time he displayed his rocket arm as the quarterback threw three touchdowns and for 412 yards without an interception.
While that performance was impressive, it was eclipsed by a remarkable debut for wide receiver Anquan Boldin, who joined the team from Super Bowl conquerors Baltimore and picked up right where he left off last season.
Boldin amassed an incredible 208 yards receiving and one touchdown from his 13 catches, as he give the Green Bay defence the runaround all through the game.
Kaerpernick and Packers QB Aaron Rodgers went head-to-head in two superb quarterback performances in a pulsating and brutal match-up between two teams who look every bit the NFC heavyweights.
There was plenty of aggression in the game from the very start with still some residual anger on both sides from their play-off meeting last season.
Clay tackle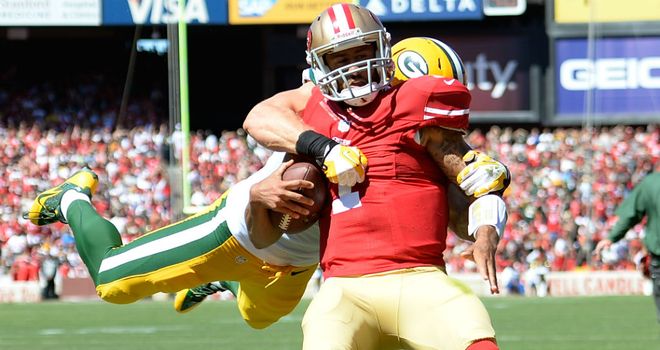 Clay Matthews flies into the tackle with Colin Kaepernick
Clay Matthews launched into a diving high tackle on Kaepernick as he headed out of bounds to draw a penalty flag and kick-start a mini brawl, with Joe Staley's aggressive input earning him a penalty that offset the original.
Kaepernick and the 49ers struck first in the opening quarter, as he fired a 20-yard strike to tight end Vernon Davis in the end zone to cap a 13-play drive of 83 yards.
Randall Cobb responded for the Packers as he took a five-yard pass from Rodgers to the brink of the end zone, and just broke the plane of the pylons as he dived and stretched out an arm.
Boldin was proving almost impossible to cover by the Packers and he grabbed a ten-yard touchdown in the second quarter before a superb late drive from Rodgers ended with tight end Jermichael Finley acrobatically diving in from 12 yards.
Level at 14-14 at half time, the 49ers came striding out after the break and after a couple more highlight reel catches from Boldin, Kaepernick hit Davis again for a second time as the big tight end scored his second TD of the game.
Response
Rodgers again responded with a clinical drive resulting in an eight-yard TD for Jordy Nelson, and when rookie Eddie Lacy dived over the line for his first TD as a Packer, Green Bay had their first lead of the day at 28-24.
Kaepernick still had Boldin though and a couple more great grabs by him set-up a one-yard run from Frank Gore, and when the defence came up with a big stop Phil Dawson was able to kick a late field goal to stretch the league to six points.
Rodgers ran out of time to respond and had to suck up the loss despite throwing for 333 yards and three touchdowns with just the one interception.
Nelson and Cobb both passed 100 yards receiving but it was the question of covering Boldin that the defence could not answer despite keeping the Niners' run game quiet for most of the game.
It's the 49ers who passed the early test to start 1-0 and prove that they will again be a real force as they look to go one better than last year's Super Bowl defeat in New Orleans.