NFL: Tim Tebow throws two TD passes and one pick as Patriots beat the Giants
Tim Tebow threw two touchdown passes and one interception as the New England Patriots beat the New York Giants.
Last Updated: 30/08/13 8:16am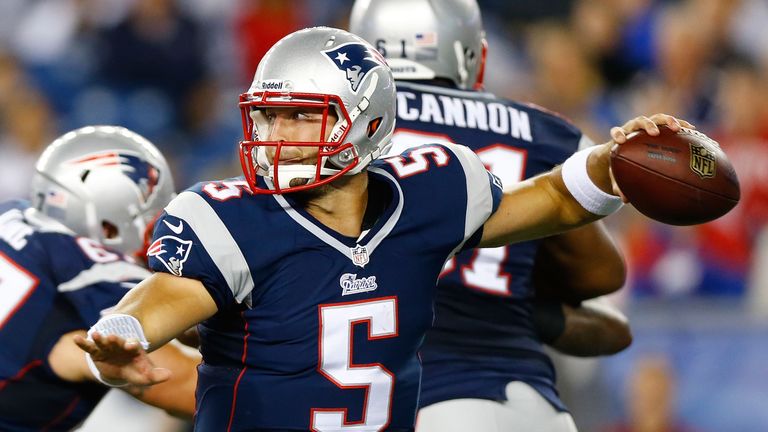 Tebow, who went 6-11 in the air for 91 yards, had a 52-yard touchdown pass and a 13-yard run, however, he was also sacked four times.
The Giants suffered an injury setback after Andre Brown broke his leg for the second straight year. He limped off the field following a three-yard run and X-rays later showed a broken leg.
Bobby Rainey scored his first two touchdowns of pre-season as the St Louis Rams' secured a 24-21 victory over champions Baltimore Ravens.
Ravens star running back Ray Rice watched from home, as did Super Bowl MVP Joe Flacco. The Rams (1-3) avoided their first winless pre-season since 2002 on an 8-yard touchdown pass from Austin Davis to Chase Reynolds with 2:40 remaining.
Seattle brushed aside the Oakland Raiders 22-6 thanks in part to Tarvaris Jackson, who led the Seahawks on three first-half scoring drives. Oakland's starting quarterback contender Terrelle Pryor struggled through his worst performance of the pre-season.
Only drive
Colin Kaepernick threw a touchdown pass to cap his only drive as the San Francisco 49ers (3-1) roughed up the San Diego Chargers (1-3) 41-6.
Kaepernick faked an inside handoff and then threw a short sidearm pass to Quinton Patton, who deked rookie free agent Marcus Cromartie and completed the 43-yard scoring play.
Brian Hoyer threw for 307 yards as Cleveland closed out their pre-season with an 18-16 victory over Chicago (2-2). Hoyer was intercepted twice, but he also led the Browns (3-1) on a 76-yard touchdown drive that made it a one-point game in the fourth quarter.
Washington Redskins (4-0) received a major boost ahead of the new season with the news that Robert Griffin III has been cleared to play in the team's NFL season-opener against the Philadelphia Eagles.
Head coach Mike Shanahan confirmed the news following their 30-12 pre-season victory over the Tampa Bay Buccaneers. Pat White set up one touchdown with a 66-yard completion and ran 7 yards for another TD.
Tyler Bray threw for 169 yards and three touchdowns as the Kansas City Chiefs topped the Green Bay Packers 30-8 in a friendly nearly devoid of starters.
Back-up battle
Case Keenum and T.J. Yates each threw a touchdown pass in their battle for the back-up job, and Cierre Wood and Dennis Johnson combined for 187 yards rushing, leading lead the Houston Texans past the Dallas Cowboys 24-6.
The Minnesota Vikings edged out the Tennessee Titans 24-23 while Miami's third-string quarterback Pat Devlin led the Dolphins to a 24-21 success over New Orleans Saints. Drew Brees and Ryan Tannehill both watched from the sidelines.
Ted Ginn Jr. is showing he has something left to offer Carolina, catching five passes for 149 yards and two touchdowns to lift the Panthers to a 25-10 pre-season win over the Pittsburgh Steelers.
The Cincinnati Bengals ended their pre-season with a 27-10 victory over the Indianapolis Colts while the New York Jets improved their pre-season record to 3-1 after seeing off the Philadelphia Eagles 27-20.