NFL: Detroit Lions beat New England Patriots and Carolina Panthers beat Baltimore Ravens
By Paul Higham Twitter: @SkySportsPaulH. Last Updated: 23/08/13 12:57pm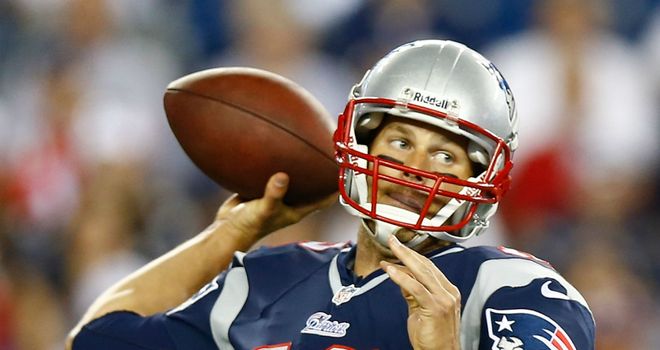 Tom Brady: Put under pressure by Detroit
American Football Betting

American Football Betting

Free Matched Bet
Tom Brady and the New England Patriots were given a tough time in their heavy pre-season defeat against the Detroit Lions, while champions Baltimore also lost out against Carolina.
With first team starters seeing more and more playing time in the penultimate pre-season games, we can start to see what shapes teams will take for week one of the new NFL season.
New England Patriots 9-40 Detriot Lions
Brady and Lions starter Matt Stafford both played the first half of the game in Detroit - with the home defence causing all sorts of problems for the re-vamped first team offence of New England.
Detroit's defensive line looked sharp and dangerous, led by Ndamukong Suh, and hassled Brady, who threw a rare interception while he struggled with timing with his new crop of young receivers.
LaGarrette Blount had ten carries as he looks to grab a spot in New England's running back committee, and his chances of extended time were helped by Brandon Boldin and Shane Vereen both losing fumbles.
Detroit again leaned heavily on new signing Reggie Bush, who made just one yard rushing but had 103 yards receiving and he is sure to be a big focus for their offence this season - even more so in the receiving game with Calvin Johnson again missing out with injury.
Stafford found tight end Tony Scheffler for the first team's only TD, which was added to by second-year QB kellen Moore's TD throws to Joseph Fauria and Michael Spurlock and along with a Theo Riddick run.
Carolina Panthers 34-27 Baltimore Ravens
Cecil Martin is joined on the phone by Heisman Trophy and former NFL running back Ron Dayne for part one of NFL Extra.
The Super Bowl champions still look like there's a lot of work to do for them to hit the ground running in week one, with quarterback Joe Flacco throwing another two interceptions to take his pre-season tally to four.
Carolina's defence, in contrast, looked right on the money as they scored three times on two interception returns and a fumble return as Baltimore's multitude of errors cost them on the scoreboard.
Not that Cam Newton and the Panthers did much better on offence, with just 67 yards of their own in the first half, but more defensive showings like this one in the regular season will give them something to build on at least.
Second-season Luke Kuechly earned rave reviews for his performance, while rookie defensive tackles Star Lotulelei and Kawann Short also showed they could make an immediate impact.
New signing Brandon Stokley already looks in favour with Flacco, while Ray Rice ran in a touchdown as he will at least be one constant on offence this season. Veteran tight end Dallas Clark also started the game.
Talented return man Ted Ginn Jr has landed in Carolina after three seasons in San Francisco, and he produced a trademark punt return which he took 74 yards to the house - but it remains to be seen if he can finally crack it in the NFL as a genuine receiver.