NFL: Miami Dolphins tight end Dustin Keller out for season with horrible knee injury
Last Updated: 19/08/13 5:13pm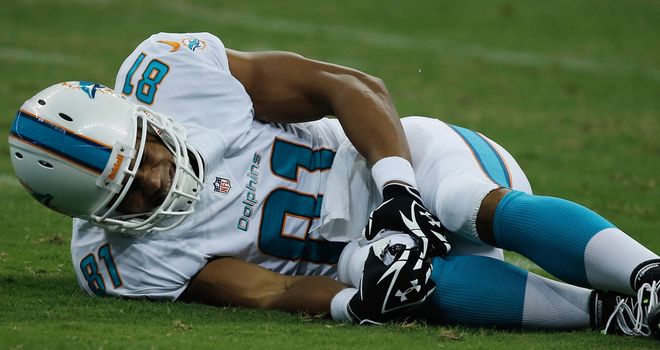 Dustin Keller in agony after DJ Swearinger's season-ending hit on his knee
American Football Betting

American Football Betting

Bet with Sky Bet
Miami Dolphins tight end Dustin Keller will miss the 2013-14 NFL season after suffering a horrific knee injury over the weekend.
Keller was hit low by Houston Texans rookie DJ Swearinger during their pre-season clash after hooking up with quarterback Ryan Tannehill for a 14-yard pass completion.
His knee buckled and sources have reported that he suffered torn anterior, medial and posterior cruciate ligaments as well as a dislocated knee cap.
Keller signed for the Dolphins as a free-agent over the summer after spending five seasons with the New York Jets, for whom he pulled in 17 touchdowns.
"I want everyone to know that as disappointing as this is I don't want anybody feeling sorry for me," Keller said in an email to NFL.com.
"I promise I'm going to come back stronger, faster and be a better player than before. I'd like to thank all my family, friends and teammates for their prayers and support."
Swearinger took to Twitter to say sorry to Keller and admitted he made his hit low down as he feared being fined or even suspended for going high, something he was often penalised for in his college days.
He told ESPN: "With the rules in this era you've got to hit low.
"If I would have hit him high, I would have gotten a fine. So I think I made the smartest play. I'm sorry it happened and I pray he has a speedy recovery.
"Right now it's just instinct. You see somebody come across the middle, you gotta go low. You're going to cost your team 15 yards. You've got to play within the rules."