NFL: Tom Brady leads touchdown drive in New England Patriots' pre-season win
Last Updated: 18/08/13 7:08pm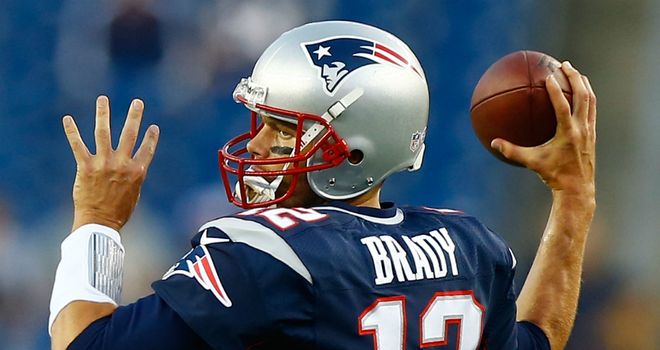 Tom Brady: completed 11 of 12 passes before making way for Ryan Mallett
American Football Betting

American Football Betting

Free Matched Bet
Quarterback Tom Brady allayed fears over a knee injury by leading New England Patriots to a touchdown on the opening drive of their 25-21 pre-season victory over Tampa Bay Buccaneers on Friday.
Wearing a light knee brace two days after leaving practice with a bruised joint, Brady led the Patriots 80 yards down the field culminating in a touchdown pass to Danny Amendola and then found Zach Sudfeld for the two-point conversion.
Brady was 11-for-12 for 107 yards when his back-up Ryan Mallett took over early in the second quarter.
The Buccaneers suffered an injury scare when running back Doug Martin's game was ended by a knee to the helmet, while their starting quarterback Josh Freeman was sacked three times in his brief appearance.
The team later said Martin had not suffered a concussion.
Sharp
Buffalo Bills rookie quarterback EJ Manuel made an impressive bid for the starting job during his side's 20-16 win over Minnesota Vikings.
Manuel completed 10-of-12 passes for 92 yards and touchdown after taking over from veteran rival Kevin Kolb, who struggled in the first half.
BJ Daniels threw a 14-yard touchdown pass to Chuck Jacobs with two minutes and four seconds remaining and Phil Dawson kicked three field goals as San Francisco 49ers rallied for a 15-13 success against Kansas City Chiefs.
And Drew Brees impressed during New Orleans Saints' 28-20 victory over Oakland Raiders.
Brees connected on 14-of-18 passes for 202 yards in the first half as the Saints built a 23-0 lead.
Raiders cornerback Tracy Porter, a former Saints player, left the game in the second quarter with a groin injury.