NFL pre-season: Baltimore Ravens come back to win after Atlanta Falcons starters shine
Last Updated: 18/08/13 5:58pm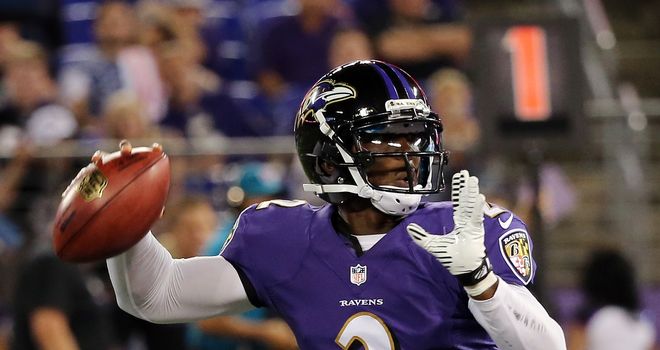 Tyrod Taylor: led Baltimore comeback in the second half against Atlanta
American Football Betting

American Football Betting

Free Matched Bet
The second week of NFL pre-season action kicked off on Thursday night with four games on the menu and Super Bowl champions the Baltimore Ravens in action.
Teams' starters are beginning to see more action ahead of the third week of preparation games, which is considered a dress rehearsal for the season proper.
With plenty of questions still unresolved, we take a look at the first batch of action this week.
Atlanta Falcons 23 Baltimore Ravens 27
Reigning NFL champions Baltimore scored three touchdowns in the final quarter to turn around a 16-point deficit, but when both teams' respective starters were on the field it was Atlanta who had the better of the action.
Matt Ryan completed eight of his 15 passes for 97 yards and a touchdown to Julio Jones, Jacquizz Rodgers ran in a score and the Falcons' defence picked off Joe Flacco once and limited Ray Rice to just 10 yards rushing on eight carries.
But when the stars headed to the bench Baltimore mounted a comeback as Tyrod Taylor threw two touchdowns in the fourth quarter and Asa Jackson took a punt return 78 yards to the house to give the home side the win at M&T Bank Stadium.
San Diego Chargers 28 Chicago Bears 33
Chicago's starters raced out to a 14-0 lead in the opening quarter and the rest of their roster managed to hold on to the advantage despite a spirited challenge from San Diego's back-ups.
Jay Cutler went 4-of-5 for 38 yards and a touchdown, with all of his passes going to Brandon Marshall. Matt Forte ran in for the other score in the first quarter, the running back grabbing a touchdown in the process of racking up 74 rushing yards on just eight carries.
Four field goals from Robbie Gould and a touchdown from Michael Bush kept the scoreboard ticking over as third-string San Diego quarterback Brad Sorensen failed to complete a comeback after going 8-for-14 for 126 passing yards and a touchdown.
Carolina Panthers 9 Philadelphia Eagles 14
Both Michael Vick and Nick Foles looked comfortable in new head coach Chip Kelly's offence, the former having a slight edge as he threw just one incomplete pass and gained 105 yards through the air.
Foles, who is challenging him for the starting quarterback spot, ran in the Eagles' first touchdown in the first quarter before LeSean McCoy added another score on the ground before half-time.
Philadelphia spread the ball around well, using no fewer than 13 receivers to catch 26 passes, while the Panthers failed to get in the end zone and could only muster three field goals. DeAngelo Williams gained just 39 yards on 12 carries.
Detriot Lions 6 Cleveland Browns 24
The Browns eased to victory to maintain their winning start to pre-season, but the success came at a price as the hosts suffered a double injury blow at FirstEnergy Stadium.
The Lions' defensive starters were powerless to prevent Brandon Weeden from completing eight of his 12 passes for 117 yards and a pair of touchdowns, while Trent Richardson rumbled for 33 yards on six carries.
But the comfortable victory was marred by injuries to back-up running back Dion Lewis, who suffered a reported broken leg, and sixth overall draft pick Barkevious Mingo, who was hospitalised with a broken lung.