NFL: Tom Brady knee injury not as bad as feared by New England Patriots
By Paul Higham Twitter: @SkySportsPaulH. Last Updated: 16/08/13 9:42am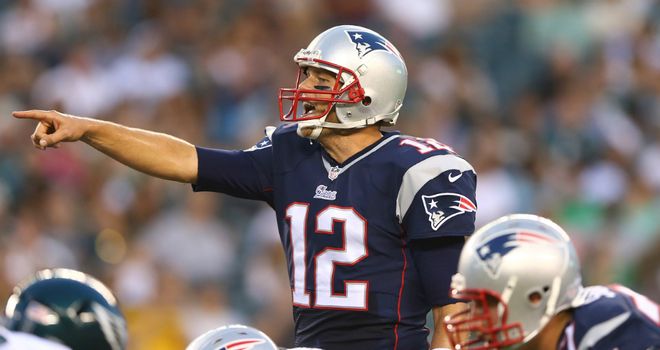 Tom Brady of the New England Patriots during NFL 2013 pre season
American Football Betting

American Football Betting

Bet with Sky Bet
New England Patriots fans held their breath on Wednesday as reports soon flooded the media and social media of Tom Brady's knee injury, but it seems as though it was not as bad as they all feared.
Brady is the Patriots, and perhaps no other player is as key to a team's success as he is to the Patriots' chances of making a deep play-off run this season.
The two-time MVP went down during a joint practice session with Tampa Bay, when Patriots offensive tackle Nate Solder was pushed backwards and collided with his quarterback.
Tom Brady
Sixth Round pick (199 overall) in 2000 Draft
Three Super Bowl wins
Two Super Bowl MVPs
Eight-time Pro Bowler
44,806 yards with 334 TDs
Record 50 TDs in one season (2007)
Helped Pats to longest win streak in NFL history with 21
Has won a record 17 play-off games at QB
With the injury coming on the same knee that Brady had surgically repaired in 2008 after roe his ACL, the panic buttons were already being thumped by worried fans up and down New England.
However, the latest update was much more positive as MRI results have suggested that no structural damage has been done to his knee and that it could be as minimal as just a tweak.
More tests will be carried out on Thursday and although he may miss practice he could play in the team's second pre-season game against the Bucs on Friday.
Brady has never been shy of playing in the pre-season during his 13-year career, and this year more than most he could do with game time with his new crop of receivers with a huge turnover of personnel in that department.
Also a major worry for the Pats could be the names that sit behind Brady on the depth chart, with regular back-up Ryan Mallett being woefully short of NFL experience and Tim Tebow already written off as not good enough to play at the position.
Mallett has thrown just four passes in the NFL and has hardly impressed when given pre-season time, while Tebow has played in, and won, play-off games in the NFL but still has a suspect action which shows no signs of improvement.
It should all be a moot point for now with Brady seemingly fine, but even the threat of injury to their star man has raised the question of what exactly should be the team's Plan B should their hero miss a game or two.