NFL pre-season: Victor Cruz TD highlights New York Giants' win over Pittsburgh Steelers
Victor Cruz's flashy TD was the highlight of the New York Giants' win in Pittsburgh in both teams' pre-season opener.
Last Updated: 11/08/13 2:08pm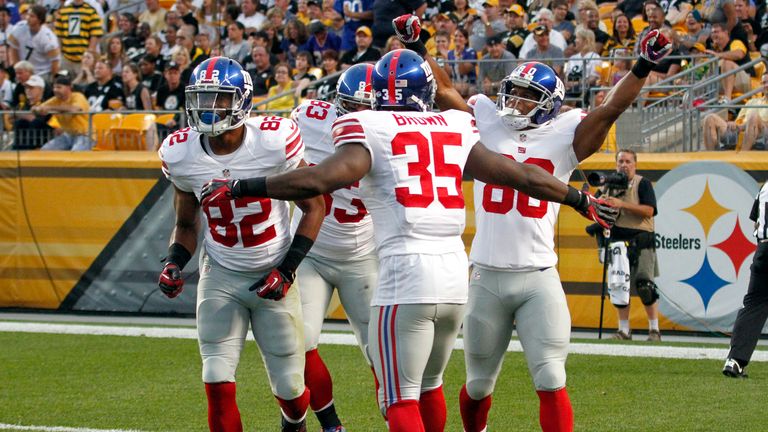 After signing his big $40 million deal in the off-season, Cruz is now settled in the Big Apple and his 57-yard touchdown from Manning could be a play we see a lot more of this coming season.
The fact Cruz beat Steelers starters Troy Polamalu, Williams Gay and Ryan Clark also bodes well for the season, and shows the quarterback and star receiver have lost none of their chemistry over the summer break.
"You kind of feel like you're still in the swing of it, you still have your footing, you still have what it takes to be successful in this offense," Cruz said. "I think (Eli) read my body perfectly and put the ball where it needed to be. It felt good to be in midseason form so early on."
With Ahmad Bradshaw gone, David Wilson looks to be the incumbent starter at running back for the Giants, with Andre Brown replacing him on third down - although he fumbled a pitch to hand possession over to Pittsburgh.
Rookie quarterback Ryan Nassib got a debut for the Giants, but the Syracuse product endured a tough first day in the NFL with a delay of game penalty and a sack before he fumbled a bad snap leading to the Steelers' only TD of the game.
Steelers
The Steelers were not able to unveil second round Draft pick Le'Veon Bell, with the rookie running back suffering from a knee problem - although Mike Tomlin was keen to play down the seriousness of the problem.
With no Rashard Mendenhall these days, Isaac Redman landed the start while former Arizona man LaRod Stephens-Howling made a decent impression, while Jonathan Dwyer has shed a few pounds but hardly lit it up either.
Ben Roethlisberger threw for 36 yards and was sacked once and brought down twice as his re-vamped offensive line hardly looked in rock solid form, but he was still satisfied with their overall running game that the Steelers have advertised they will lead with this season.
"I thought we came out and ran the ball well," Roethlisberger said. "We want to establish an identity early of running the ball and I think we did a good job of that."
After losing Mike Wallace the Steelers want to emphasise the run game, but they look to have a decent prospect out wide in Markus Wheaton, who only made one catch but it was a fine diving effort.
Rookie linebacker Jarvis Jones showed some of his first round Draft potential as he picked up a fumble on his debut, but overall there were far too many mistakes to satisfy head coach Tomlin.
"Just the Steelers beating the Steelers," Tomlin said. "Don't get me wrong, sometimes it can be characterized as part of August football but I'm not buying that. I think we can set the bar higher than that for the first time out."