Joe Flacco struggled to find the words to explain his award as Super Bowl MVP
MVP Joe Flacco was left struggling for words after guiding the Baltimore Ravens to victory in Super Bowl XLVII.
Last Updated: 04/02/13 1:26pm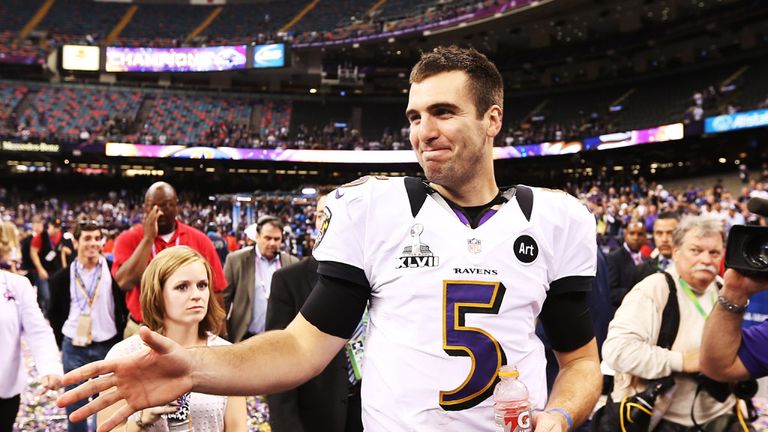 Flacco completed 22 of 33 passes for 287 yards and that proved enough to secure the prestigious honour, despite plenty of candidates from his side and the vanquished San Francisco 49ers.
The 28-year-old has been one of the NFL's more under-rated quarterbacks since the start of his professional career, but he capped a superb set of play-off performances in leading the Ravens to a tense 34-31 victory that was still in the balance in the closing minute.
"It hasn't sunk in yet, it's crazy, unbelievable," said Flacco, who played his college football with Division II side Delaware. "It's tough to put into words.
Cool
"They have to give it to one guy and I'm not going to complain that I got it.
"I was sitting there thinking, 'There's no way. There's no way we stop them here, but we did. I tell you what: We don't make it easy. But that's the way the city of Baltimore is. That's the way we are."
During the playoffs, he threw for 11 touchdowns, matching the record set by Hall of Famer Joe Montana (1989) and Kurt Warner (2008) for the most by any player in a single postseason - he also went interception free throughout.
"It's pretty cool. Joe Montana has been my favourite quarterback so to be out anywhere next to him is pretty cool," Flacco said