England rugby union boss Martin Johnson tips San Francisco 49ers to win Super Bowl
Last Updated: 02/02/13 12:51pm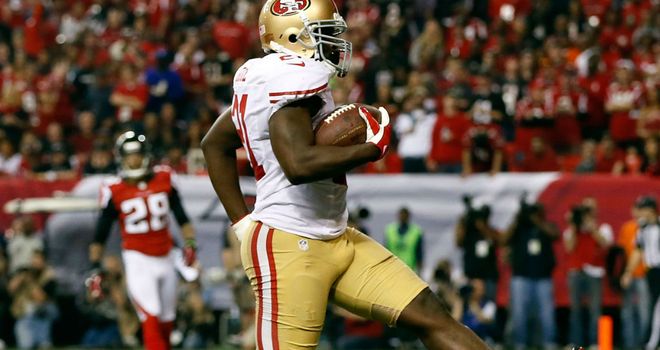 Frank Gore scores against the Atlanta Falcons
American Football Betting

American Football Betting

Bet with Sky Bet
Former England rugby union team manager Martin Johnson has tipped San Francisco 49ers to win their first Super Bowl crown in almost two decades.
The 49ers - who will face the Baltimore Ravens in New Orleans - last won the NFL's biggest prize in 1994.
It was their fifth championship in 14 years in the halcyon days for a team named after prospectors who raced to California in the gold rush.
That period of dominance coincided with the NFL's first wave of popularity in the UK and NFL UK figures show that the 49ers are though of as the fourth most popular team amongst British teams.
Only powerhouses from the same period, Miami and Chicago, and the most recent dynasty New England above San Francisco in British affections.
With Baltimore ranked down in the mid-table, it is easy to see which team will have the most support from across the Atlantic come kick-off.
Johnson follows Jim Harbaugh's team closely and was thrilled to see them reach the Super Bowl after the coach's mid-season gamble to stick with their young quarterback Colin Kaepernick even after veteran Alex Smith returned from injury paid off.
"I'm delighted to see my beloved San Francisco 49ers back in the Super Bowl," Johnson said.
"I have been very impressed with the way they have played this season and the way the entire team has handled the switch Jim Harbaugh made at quarterback during the regular season."
Smith had been the third-ranked quarterback in the league before suffering a concussion in Week 10, but Kaepernick was such a revelation when handed the chance that Harbaugh broke his own rule of not having an injury cost a player his place in the team long-term.
"It was a risky move to bench Alex Smith in favour of Colin Kaepernick but you can see why Harbaugh made the move," Johnson added. "Kaepernick has been sensational and offers so much to the team. In terms of arm strength, he is a different beast and he is amazingly quick for a big man. Kaepernick has been very impressive."
San Francisco will head to Wembley later this year to take on the Jacksonville Jaguars in one of two regular-season contests in the capital.
Jerry Rice, one of the faces of the 49ers' glory days as a three-time Super Bowl winner, made the trip when San Francisco played Denver in London in 2010.
He is looking forward to the return having experienced first-hand the strength of their support here and said: "I felt very special when I came to London in October 2010 for the 49ers-Broncos game at Wembley Stadium.
"People treated me great and were walking up to me in the street and recognising me - a lot of that is to do with the dynasty we built at the 49ers and me being part of a team with so many great players in the 1980s."