NFL Divisional Round preview: Who will come out on top in Saturday's games?
We look at what the keys to victory will be in Saturday's first live NFL play-off game between Denver and Baltimore.
Last Updated: 12/01/13 8:10pm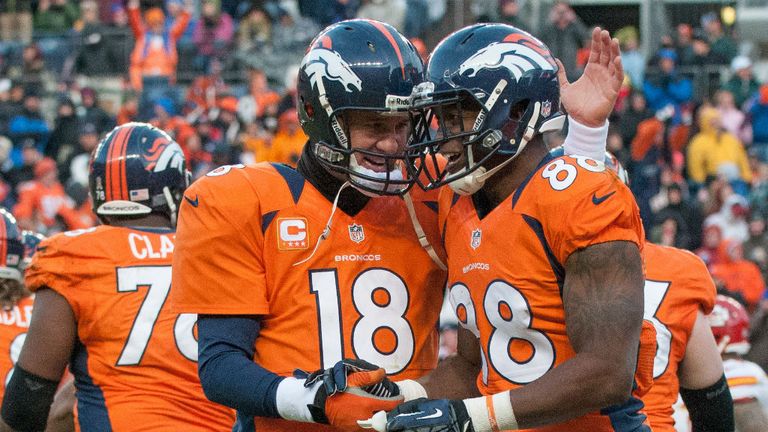 The Ravens beat the Indianapolis Colts last week in the wildcard round to set-up a trip to AFC top seed Denver, who have had a week off to go with their home field advantage.
We look at who and what the keys to victory will be in Saturday's huge play-off game in the NFL.
Baltimore Ravens @ Denver Broncos
Ravens ready?
Before discussing anything else, you've got to ask whether Baltimore will even be able physically go out and produce 60 minutes of top-class play-off football, which is what they'll need to beat Payton Manning's well-rested crew. The Ravens only played on Sunday, the Colts kept them on the field a long time and now they play less than a week later having made the trip to Denver AND they're playing at altitude - three times have previously had the same schedule, and lost every time. A quick start from the Broncos and there may be no way back for Baltimore.
Manning up
Peyton Manning owns the Ravens - his nine-game winning streak is the best active one against Baltimore and he has already beaten them this year, just four weeks ago when the Broncos won 34-17 at M&T Bank Stadium. Manning has been right back at his best this season and he has raised the games of his receivers Eric Decker and Demaryius Thomas who both had 1,000-yard seasons with the great man under centre. Denver managed to win a home play-off game against Pittsburgh last year with Tim Tebow at QB so they are rightly favourites to win this one with the four-time MVP now leading the charge.
Running game
This will be crucial on both teams - for Denver Knowshon Moreno emerged to fill the Willis McGahee void and he was superb against the Ravens last time with 115 yards and a score. Baltimore do have Ray Lewis back, amongst others, but the Colts still managed to run on them last week and if Moreno can get just a hint of production going then that opens it up for Manning and the play-action. For Baltimore Ray Rice is key, especially with Joe Flacco's struggles on the road - but he must not fumble the ball has he has a worrying tendency to do in play-off games.
Home and Away
Manning loves it at home, Flacco hates it on the road - this one is as simple as that. If you use the total QBR rating system then amazingly a huge gap appears between the two quarterbacks and a worrying one for Baltimore fans. At home Manning is the top-rated quarterback in the NFL this season by a mile, whilst on the road Flacco comes in dead last in the league, even below the likes of Mark Sanchez! This statistic, with the most important player in your team - is a concern to say the least.
Prediction
You've got to go with Denver, yes we haven't even mentioned Ray Lewis yet and his emotional impact, but the odds are stacked against the Ravens whichever way you look at it, so it looks like we will be seeing the last of the legendary linebacker as the Broncos move on to the AFC Championship game.