Oakland Raiders won for the fourth time this season after beating Kansas City Chiefs
Sebastian Janikowski kicked five field goals as the Oakland Raiders shut out the Kansas City Chiefs 15-0.
Last Updated: 18/12/12 8:00am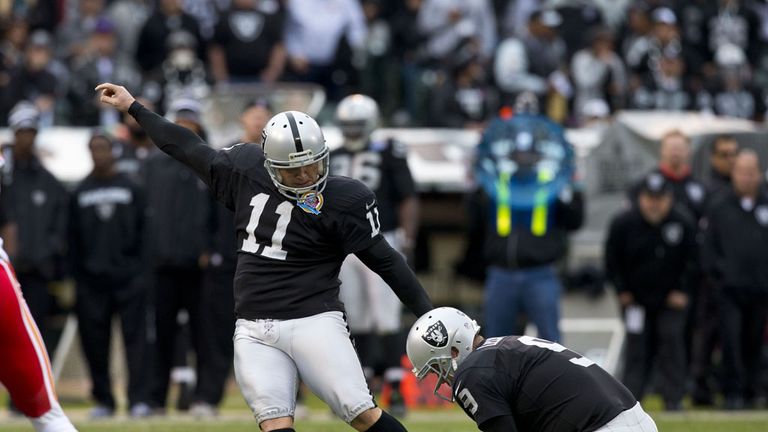 The Raiders (4-10) overwhelmed the undermanned Chiefs (2-12) to snap a six-game losing streak. Now sandwiched around those losses are two wins over Kansas City, a rare bright spot in a disappointing season for Oakland.
There has been little to cheer for this season for the Chiefs, who have lost 10 of 11 games and are tied for the second most losses in franchise history behind a 2-14 mark in 2008.
This matchup between two old AFL rivals lacked the meaning many of the past meetings had with both teams entering the game with at least 10 losses for the first time ever.
The quality of play matched the poor records for much of the day as the Chiefs took nearly 40 minutes to earn their initial first down of the game and the Raiders failed to reach the end zone.
But with McFadden topping 100 yards for the third time this season, Carson Palmer playing turnover-free for the first time since September and the Raiders dominating defensively, Oakland came out on top.
The Raiders thoroughly dominated the first half, outgaining Kansas City 198-17 and holding the Chiefs without a first down, but only led 9-0 on three field goals by Janikowski.
Janikowski slotted home two more field goals after the half time interval from 30 and 41 yards respectively in the third and fourth quarter to wrap up the scoring.