NFL: TY Hilton the star as Indianapolis Colts see off Buffalo Bills
TY Hilton scored on a punt return and touchdown pass as the Indianapolis Colts beat the Buffalo Bills 20-13.
Last Updated: 25/11/12 11:44pm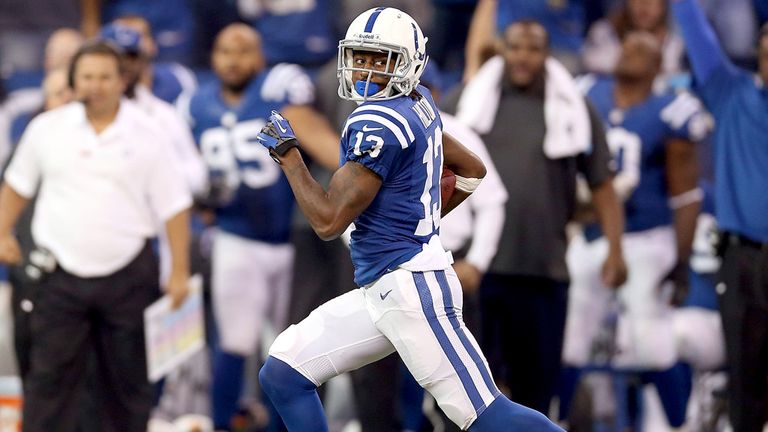 Hilton is the first player in franchise history to score both ways in the same game as the Colts improved to 7-4 and moved to the head of the race for an AFC wildcard.
Andrew Luck finished 20-of-37 for 240 yards with one touchdown and an interception, while CJ Spiller ran 14 times for 107 yards for Buffalo (4-7).
Bills quarterback Ryan Fitzpatrick was 17-of-33 for 180 yards with one touchdown and one interception, while Stevie Johnson caught six passes for 106 yards.
Hilton got things started by fielding Shawn Powell's 48-yard punt at his own 25 before tearing down the middle of the field and sprinting to the end zone for Indy's first punt return for a score in five years.
The Bills reached the red zone twice and managed just a pair of short field goals from Rian Lindell, who hit from 33 yards and 31 yards, while Adam Vinatieri kicked a pair of three-pointers for the Colts.
Luck took the Colts on a 15-play, 87-yard drive to open the second half with his steady, methodical play, finally hooking up with Hilton in the back of the end zone for an eight-yard score that made it 20-6.
The Bills did end their red-zone touchdown drought when Fitzpatrick threw a one-yard pass to Lee Smith to cut Indy's lead to 20-13 with 11:30 left in the game.