NFL: Record for Andrew Luck as Indianapolis Colts beat Ryan Tannehill and Miami Dolphins
Andrew Luck set a new NFL rookie passing record as the Indianapolis Colts edged out the Miami Dolphins 23-20.
Last Updated: 04/11/12 11:12pm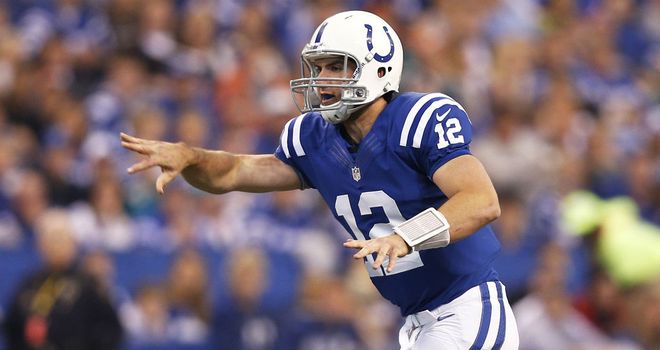 The two rookies had led their teams to surprisingly good starts, and the winners have already been named as a play-off team, but both teams could do well if they continued to ride the displays of their young triggermen.
The Colts' ailing coach Chuck Pagano, who has been diagnosed with a form of leukemia, was present at the Lucas Oil Stadium for the first time since being struck down with the illness, and luck in particular responded by putting on a great show.
Luck threw for a single-game rookie record of 433 yards to beat the Dolphins - eclipsing Cam Newton's mark from last year of 422 yards.
The number one pick out of Stanford also equalled his predecessor Peyton Manning's record of throwing his fourth 300-yard game of his rookie season.
Tannehill had 290 yards and one touchdown, but it was Luck who made the crucial throws at the crucial times to send his team to 5-3 - although all five of their wins this season have come by six points or less.
Veteran Reggie Wayne and rookie T.Y Hilton caught the TD grabs for Indianapolis, while Adam Vinatieri kicked three field goals including a 43-yarder six minutes from the end that proved to be the game winner.
Defence
Miami got the ball back twice after going behind but the Colts defence stood firm and when Luck came back onto the field late on he was able to run out the clock for an emotional win no doubt dedicated to coach Pagano.
Tannehill had found full-back Charles Clay with a 31-yard pass at the start of the second quarter to move ahead, and Reggie Bush did likewise as he showed his highlight reel speed and elusiveness on an 18-yard run that left half of the Colts defence for dead.
Indy only allowed Bush to run for 41 yards in all though after learning that lesson, as Miami totalled just 84 yards on the ground and forced Tannehill to take to the air.
Miami's own run defence allowed the Colts just 97 yards rushing though, but Luck was able to get more from his receiving corps with Hilton catching six passes for 102 yards and the speedy Donnie Avery again enjoying his home turf with five receptions for 108 yards.
Neither young quarterback committed a turnover, despite Tannehill suffering with injury, and they both look like gong a long way in the NFL even if Luck does seem able to get there a bit sooner.