New York Giants blow 23-point lead but recover to beat Dallas 29-24
Last Updated: October 29, 2012 8:26am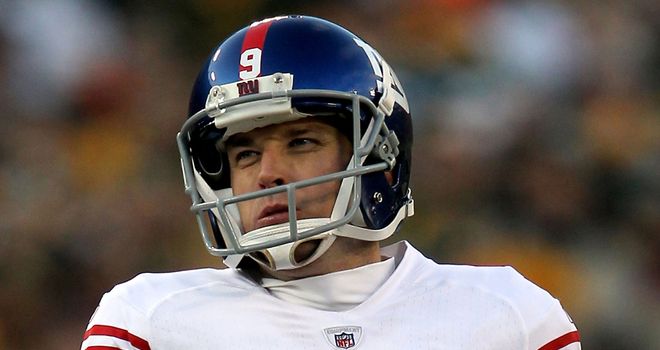 Lawrence Tynes: Kicked two late field goals to earn Giants win
American Football Betting

American Football Betting

£10 Free Bet
The NFC East-leading New York Giants blew a 23-point lead but recovered to beat Dallas 29-24 as they remained undefeated at Cowboys Stadium.
Cowboys quarterback Tony Romo threw interceptions as the Giants (6-2) roared into a 23-0 lead two minutes into the second quarter.
Romo's third mistake saw Giants defensive end Jason Pierre-Paul return the interception 28 yards for New York's second touchdown.
The hosts hit back in impressive fashion, though, and edged 24-23 ahead when Romo connected on a one-yard TD pass late in the third quarter.
But Lawrence Tynes then kicked two of his five field goals in the final period as New York went back in front, this time for good.
But New York had to endure another scare as Dallas celebrated what appeared to be a 37-yard touchdown catch by Dez Bryant with 10 seconds left.
However, the play was reviewed and replays showed that Bryant's hand had touched out of bounds first.