NFL: Trent Richardson rushes Cleveland Browns past San Diego Chargers
Last Updated: 28/10/12 9:58pm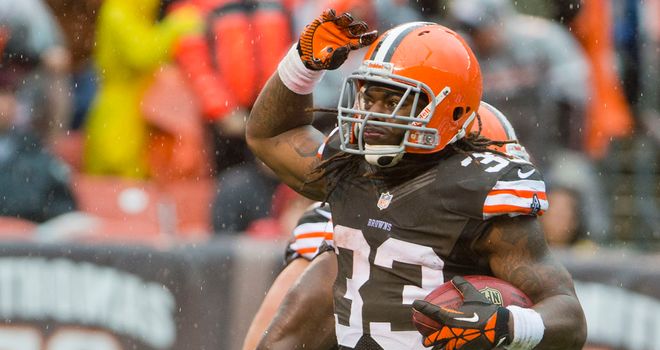 Trent Richardson: managed the only touchdown in a low-scoring game
American Football Betting

American Football Betting

Free Matched Bet
Trent Richardson ignored sore ribs and poor weather to lead Cleveland to a 7-6 victory over the San Diego Chargers.
Richardson carried 24 times for 122 yards as the Browns (2-6) slopped their way to a second straight home win - and first for new owner Jimmy Haslam.
The rookie running back scored on a 26-yard run in the first quarter and the Browns were able to hang on despite not generating much offense in blustery, wet conditions.
After quarterback Brandon Weeden had converted on a fourth-and-one with a sneak to keep the drive alive, Richardson took a hand-off up the middle, broke two tackles and was kept upright by right guard Shawn Lauvao, before scampering into the end zone for his fifth TD.
The Chargers (3-4) slipped to their third straight defeat, though they could've grabbed a late victory had quarterback Philip Rivers' pass not been batted away by Browns cornerback Buster Skrine with 1:24 left.
Rivers finished 18 of 34 for 154 yards but had a potential touchdown pass dropped by Robert Meachem in the third quarter.
Because of the bad weather, the Chargers, too, were forced to go to the ground and Ryan Mathews picked up 95 yards on 24 attempts.
Nick Novak kicked field goals of 43 and 31 yards for San Diego in the second and third quarters but the Chargers were never able to move ahead.