NFL: Pressure mounts on Andy Reid as Eagles are well beaten by Falcons
Last Updated: 29/10/12 9:02am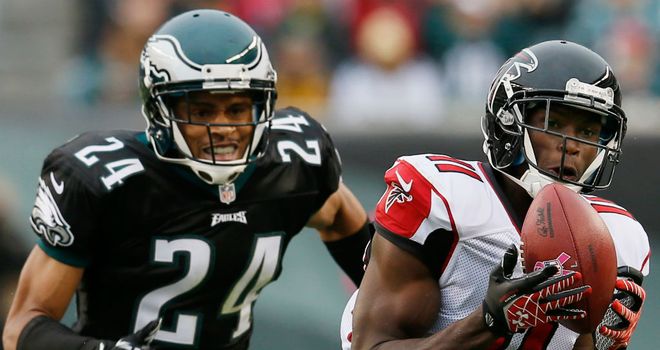 Julio Jones: catches a 63-yard touchdown pass from quarterback Matt Ryan
American Football Betting

American Football Betting

Free Matched Bet
Matt Ryan threw touchdown passes on Atlanta's first three possessions as the Falcons remained the NFL's only unbeaten team with a convincing 30-17 win over Philadelphia.
Ryan finished 22 of 29 for 262 yards for his first win against his hometown in three tries. In contrast, opposing quarterback Michael Vick failed to make a significant impact against his former team.
The Falcons improved to 7-0 for the first time while the Eagles - and new defensive coordinator Todd Bowles, who has replaced the axed Juan Castillo - dropped to 3-4.
Castillo's defense allowed 18.5 points per game; Bowles' unit allowed 21 points in the first 24 minutes and couldn't make a stop until the fourth quarter.
The Falcons methodically drove 80 yards on 16 plays on the opening possession, converting five third downs. Ryan then threw a 15-yard TD pass to Drew Davis for a 7-0 lead.
Ryan tossed a three-yard TD pass to Jason Snelling to make it 14-0 before Eagles running back LeSean McCoy scored from the two to cut the deficit to seven points.
But the Falcons answered quickly. Ryan connected with Julio Jones over Nnamdi Asomugha for a superb 63-yard score to put Atlanta up 21-7.
Matt Bryant's 43-yard field goal gave the Falcons a 24-7 half-time lead and he also kicked further field goals of 29 and 30 on the next two drives.
The Eagles made it 30-17 on Vick's seven-yard TD pass to McCoy in the fourth quarter but they still came up short, increasing the pressure on under-fire head coach Andy Reid.