NFL at Wembley: Tom Brady helps New England Patriots beat St Louis Rams
By Paul Higham Twitter: @SkySportsPaulH. Last Updated: 28/10/12 11:58pm
American Football Betting

American Football Betting

Bet with Sky Bet
The New England Patriots enjoyed a happy return to Wembley as they inflicted a crushing 45-7 defeat on the St Louis Rams in the latest NFL International Series game in London.
On paper this looked like one of the most competitive match-ups yet to be played in the capital, with the Rams defence looking sharp and the Patriots offence scoring points at will - but it soon became clear that Tom Brady had the upper hand.
The Rams actually took the lead on their first possession when Sam Bradford found Chris Givens for a 50-yard touchdown pass, but New England levelled instantly with Brady hitting Brandon Lloyd from 19 yards out for 7-7.
From then on it was one-way traffic, with tight end Rob Gronkowski and wide receiver Lloyd finding the end zone twice, while Stevan Ridley and Shane Vereen both ran in scores in the first half as the Patriots really took charge of the game.
From 7-0 down, New England piled up 21 points in a killer second quarter that effectively put the game to bed, and despite the Rams being the 'home' team, the majority of the 84,004 fans inside Wembley were backing Brady's bunch.
Brady came out of the game in the fourth quarter with his job done after throwing for 304 yards, four touchdowns and no interceptions for a near-perfect passer rating of 131.1.
There are two NFL games in London next year and talk is intensifying over a team possibly being based in the UK - and the Patriots will have no problems coming back to Wembley after recording a second emphatic victory at the home of English football.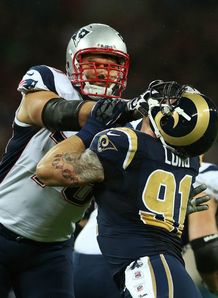 Sebastian Vollmer blocking Chris Long
The Pats easily defeated Tampa Bay on their last visit in 2009, but this game was even more emphatic, with the game all but over at half time thanks to a clinical Brady and a Rams defence that folded when it had looked so stout all season up to now.
Beating
The Rams actually threatened to cause an upset early on as Bradford hit Givens to take advantage of New England's well-known fragility in the secondary, but from then on he hardly had a chance and was soon playing from well behind.
Bradford threw for 205 yards and just that one touchdown with one interception, as it was the New England offense that took centre stage as the Rams, who have struggled to score points all season, stood no chance of keeping pace with their opponents.
Monstrous tight end Gronkowski was again the stand out and the favourite weapon for Brady, as he caught eight passes for 146 yards and two scores.
Danny Woodhead has 56 yards receiving while Llloyd's only two catches of the game resulted in touchdowns. Wes Welker had a quiet game with just six receptions for 48 yards.
On the ground the Patriots were again effective and that improved running game - Ridley was the lead back with 127 yards rushing at 8.5 yards per carry.