Tony Romo suffered five interceptions as Chicago Bears crushed Dallas Cowboys in Monday NFL action
Jay Cutler won a battle between two unpredictable quarterbacks to lead Chicago to a 34-18 victory over the Cowboys.
Last Updated: 02/10/12 11:44am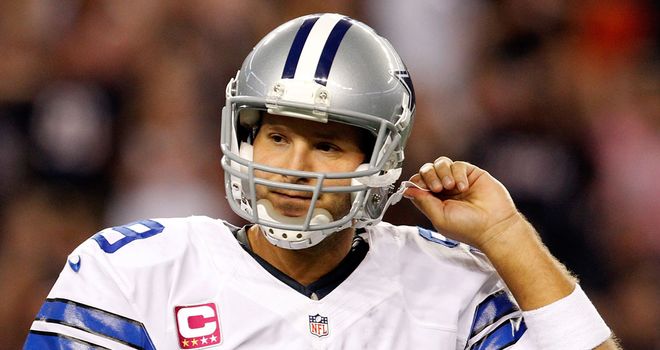 The Bears feasted on a string of Tony Romo mistakes, the Cowboys QB matching a career-high five interceptions, two of them returned for touchdowns.
The Bears led by just three points at half-time but took full advantage of Romo's second half meltdown as Lance Briggs intercepted one of his errant passes and ran 74 yards to give the visitors a 24-7 lead.
With his options limited, Romo was forced to throw often and completed 307 passing yards, including one touchdown, but his game was defined by the interceptions.
Cutler fared decidedly better, tossing two touchdowns in the second half, with the final effort finding Brandon Marshall for a 31-yard completion that put his team 34-10 clear in the fourth quarter.
The Chicago quarterback had suffered a similar fate to Romo against the Green Bay Packers on last month when he coughed up four interceptions, was sacked seven times and publicly berated his offensive line.
But Cutler, who completed 18-of-24 passes for 275 yards and no interceptions against the Cowboys (2-2), has rebounded and pushed the Bears (3-1) into a tie with Minnesota for the NFC North lead.
Adding to the good news for Chicago was the return of Pro Bowl running back Matt Forte, who missed last week's game with a sprained right ankle but gained 52 yards on 13 carries.