Peyton Manning threw three touchdowns as Denver beat Oakland
Peyton Manning led Denver to three third-quarter touchdowns Sunday in a one-sided 37-6 rout over the Oakland Raiders.
Last Updated: 02/10/12 11:59am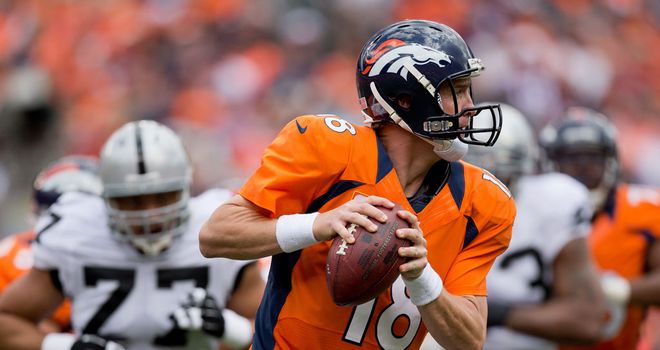 The former Indianapolis Colt finished with 338 yards, three touchdown passes and no interceptions.
Willis McGahee finished with 112 yards rushing for the Broncos for his 32nd career 100-yard game, the most of any active player.
Joel Dreessen opened the scoring with a 22-yard reception before two field goals by Sebastian Janikowski sandwiched Matt Prater's 21-yard effort.
The Broncos cut loose in the third quarter with Manning picking out Eric Decker and Lance Ball, while McGahee also scored a close-range touchdown.
Prater added two more field goals in the fourth quarter to add the icing on a sweet cake for the 2-2 Broncos. The Raiders dropped to 1-3 on the season.