Patriots boss Bill Belichick fined for grab on replacement NFL referee
By Paul Higham Twitter: @SkySportsPaulH. Last Updated: 27/09/12 8:57am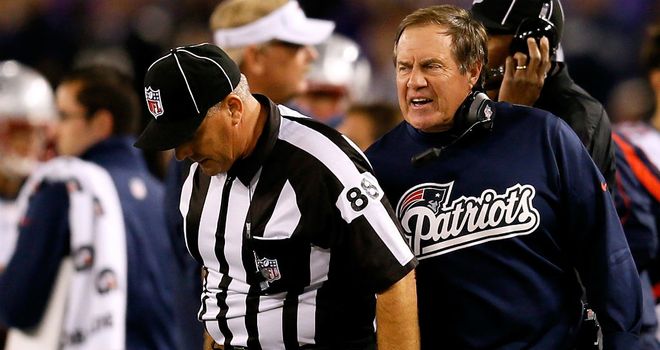 Bill Belichick: Furious with replacement referee in Baltimore
American Football Betting

American Football Betting

Bet with Sky Bet
New England Patriots coach Bill Belichick has apologised after being fined $50,000 for grabbing a replacement official¿s arm against Baltimore, while - Washington Redskins offensive coordinator Kyle Shanahan has been fined $25,000.
Replacement officials have caused huge controversy in the NFL, most notably in Green Bay's defeat in Seattle on Monday, and the NFL owners have responded by finally agreeing a deal with the regular referees to return.
Pats boss Belichick was fined for grabbing line judge Esteban Garza's arm as they left the field following Baltimore's late victory on a debated field goal.
Belichick was not sure the ball was good as it sailed high above the uprights, but he has accepted his fine and apologised for his action.
"It was inappropriate for me to contact the official," Belichick said. "I take responsibility for what happened. I accept the discipline and I apologize for the incident Sunday night in Baltimore.
"I've coached in this league a long time. I've never been penalized, never had any incidents with officials or anything like that. I have never meant any disrespect or in any way tried to abuse or be disrespectful to the officials and the job that they do.
"I was trying to get an explanation for obviously an important call/play in that game. That's the No. 1 thing between coaches and officials, it's always at the forefront, just communication of what's going on and what's happening."
Shanahan
Ravens coach John Harbaugh also had his actions towards officials reviewed by the league but he was not fined - unlike Redskins offensive coordinator Kyle Shanahan.
Shanahan, son of head coach Mike, was penalised for unsportsmanlike conduct for his behaviour at the end of their 38-31 defeat to Cincinnati, and also reportedly confronted an official after the game.
"When I overheard the official tell the head coach that the game was over after the false start penalty, I tried to explain that the game was not over," Shanahan said.
"That is what resulted in the unsportsmanlike conduct penalty. I tried to get an explanation of how I could get that penalty when half of the other team was on the field as well.
"I was frustrated, and in the process of trying to get some answers from the officials, I conducted myself in the wrong way.
I ask our players to hold themselves to a high standard and be accountable, and I know that I'm accountable for my actions as well. I know that I need to handle those situations better in the future. My emotions got the best of me, and I know it's my responsibility. This will never happen again."