Falcons pick on Peyton
Falcons move to 2-0 after wild first quarter attack on Manning
Last Updated: 18/09/12 12:24pm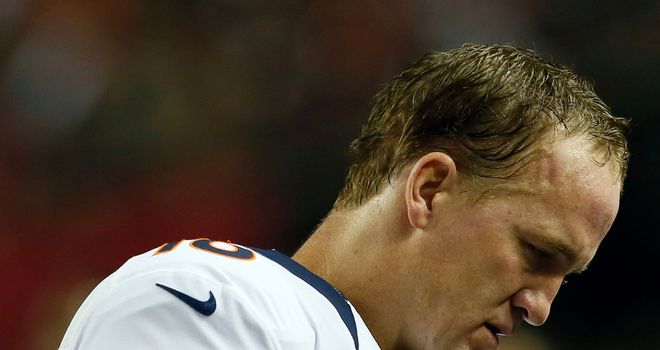 Peyton Manning: Brought down to earth in Atlanta
American Football Betting

American Football Betting

Free Matched Bet
Peyton Manning came back down to earth with a bump in Atlanta as the Falcons intercepted him three times in the first quarter of a 27-21 win over the Denver Broncos.
Manning returned to action last week with a brilliant win over Pittsburgh, but his second game back was a sobering encounter as he made one of the worst starts to a game in his career.
His three interceptions in his first eight passes was the least number of passes he's ever needed to be picked off three times, while Knowshon Moreno also threw in a fumble to make it four turnovers by the Broncos in the first 15 minutes.
Matt Ryan and the Falcons pounced on the mistakes, with Michael Turner running in a short touchdown and Tony Gonzalez gathering a one-yard pass to make it 20-0 approaching half time.
Denver finally got on the board in the dying second of the half when Manning found Demaryius Thomas, who caught eight balls for 78 yards on the night, for a 17-yard score.
Falcons flying
Atlanta got the Georgia Dome fans back on their feet in the third quarter when Ryan found Roddy White for a touchdown.
White ended with 102 yards receiving and a score for the 14th game since Ryan took over at quarterback in 2008 - only Calvin Johnson has more than the Falcons wideout.
Although the Falcons were flying high and Manning had been having a nightmare, he still managed to lead Denver to a comeback that almost stunned the hosts as Atlanta failed to score in the final quarter.
Willis McGahee ran in from close range early in the fourth, and when he repeated the dose with 3:25 left on the clock then the lead was down to six points and the game was suddenly back on the line.
After a couple of misses, Ryan iced the game by hitting Julio Jones for a crucial first down that enabled them to then run out the clock and avoid the comeback from Denver.
Closed out
"It's the way you want to close out the game. We had some more opportunities to do it. But fortunately, we got it done when we needed to," said Ryan, who threw his 100th touchdown pass in the game.
"I guess I'm getting old! It's special to throw many touchdown passes. It's pretty cool."
Manning was left to reflect on the highs and lows of life in the NFL as he continues to adjust to being back after a year out following neck surgery and still seemingly struggling to find the same zip on his passes as the Manning of old.
"Anytime you come on the road and throw three interceptions in the first quarter you really put your team in a hole," said four-time MVP Manning.
"Each turnover has its own story that no one really wants to hear. I've just got to take care of the ball better.
"I thought we could find a little momentum there, find some rhythm, which we did. We had a chance to win that game. I think we will learn from it and we'll be better for it."