Jags heading to Wembley
Jacksonville step in to fill Rams gap and play multiple games at Wembley
By Paul Higham Twitter: @SkySportsPaulH. Last Updated: August 21, 2012 7:30pm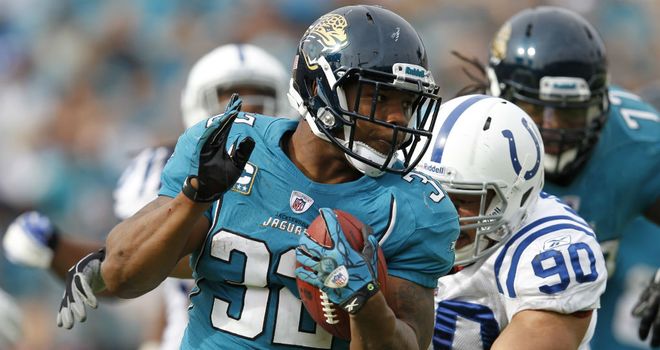 Jacksonville Jaguars: Heading to Wembley
American Football Betting

American Football Betting

Join the Free Bet Club
The Jacksonville Jaguars have confirmed a deal to play a home NFL game at Wembley Stadium in London for four years starting in 2013.
The St Louis Rams had been due to make London their second home, but after playing against New England Patriots this October they have pulled out of a commitment to play further games in the UK.
The Jaguars have stepped in though, and have agreed to play one home game in London for four years, staring in 2013 to fulfil the NFL's plan of staging fixture sin the UK for the next five years.
"Our goal is to continue to grow the game, and this commitment by the Jacksonville Jaguars represents a major step forward in our international efforts," said NFL Commissioner Roger Goodell.
"We have had a tremendously positive reaction to our sport in the UK and we're excited that the Jaguars are seizing this opportunity to raise the profile for the team as well as the Jacksonville community.
"The NFL is committed to working with Shad Khan and the Jaguars in every respect to help them grow their brand and fan base through the NFL International Series and the many opportunities these games will offer."
Profile
Jacksonville have struggled with selling out home games for the last couple of seasons and new owner Shad Khan is looking to be pro-active in raising the team's profile.
Even in his opening speech after taking charge at the Jags, Khan stated his desire to be at the forefront of the NFL's plans for expanding their fan base internationally - so when the Rams pulled out he was more than happy to sign up his team to a London move.
"The Jacksonville Jaguars will be a bold and ambitious NFL franchise," said Khan.
"Playing a home game in London over four seasons is consistent with our vision to introduce and grow the Jaguars brand globally, and we're appreciative of the support from the Jacksonville business community to make this a reality and winning proposition for everyone.
"This is a priceless opportunity to share the business, tourism and lifestyle story of Jacksonville with international audiences, and I know it will give the Jaguars a unique and powerful identity within the league and beyond."
Keen to build on the growing popularity of the sport in the UK, 2013 will also be the year that the league arrange two regular season games in the country with a second one to Jacksonville's being announced later this year.