Welker dejected after drop
Star receiver says he let his team down at a crucial time
Last Updated: 07/02/12 8:36pm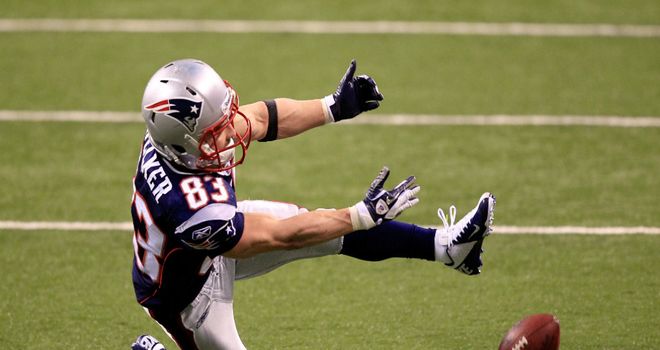 Wes Welker: Could not haul in routine catch in fourth quarter of Super Bowl
American Football Betting

American Football Betting

Bet with Sky Bet
New England Patriots wide receiver Wes Welker says he let his team down with a costly drop in the closing stages of the Super Bowl.
With the Patriots leading 17-15 against the New York Giants late in the fourth quarter and driving down the field, quarterback Tom Brady found Welker for what would have been a crucial first down.
But Welker, usually one of the most sure-handed receivers in the league, could not hang onto the pass and, after another incomplete pass, the Patriots were forced to punt.
On the ensuing Giants drive, Eli Manning led his side down the field before Ahmad Bradshaw rushed into the end zone for what would prove to be the winning touchdown.
And Welker was left shocked that he could not haul in a ball he usually would have no problems catching.
"It's one of those plays I've made a thousand times," Welker said.
Biggest moment
"I mean, the ball is right there. I've just got to make the play. It's a play I've made a thousand times in practice and everything else.
"It comes to the biggest moment of my life and I don't come up with it. It's discouraging.
"It hit me in the hands. I mean it's a play I never drop. I always make. Most critical situation and I let the team down."
Welker was far from the only Patriots player to drop a vital catch and Brady says the star wideout will not be marginalised after his costly error.
"Wes was running down the field and it looked like (the Giants defence) messed the coverage up a little bit and I threw it to him," Brady said.
"He went up to try and make it, as he always does, and we just couldn't connect.
"He's a hell of a player. I'll keep throwing the ball to him for as long as I possibly can. He's a phenomenal player and team-mate and I love that guy."