Shanahan sees brighter future
Redskins close to turning the corner, thinks head coach
Last Updated: 03/01/12 1:46pm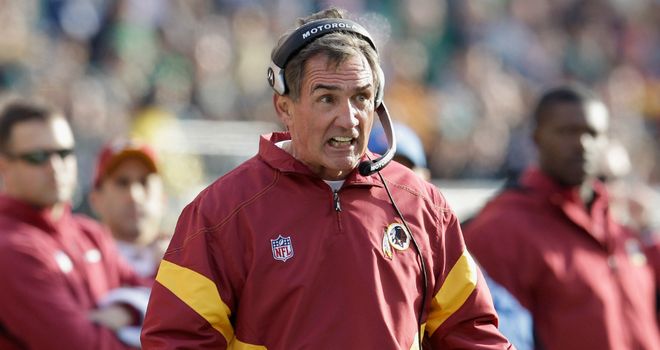 Mike Shanahan: compiled 11-21 record in two seasons as Washington Redskins head coach
American Football Betting

American Football Betting

Bet with Sky Bet
Mike Shanahan remains convinced he can turn around the fortunes of the Washington Redskins.
The Redskins finished with a 5-11 record in Shanahan's second season in charge, losing 10 of their last 12 games after making a promising start.
"I'm looking forward to the challenge of putting a great football team together here with the Washington Redskins. I know we're not there yet," said Shanahan, a two-time Super Bowl winner during his time as Denver Broncos head coach.
"But I'm excited with what I do. I'm excited about this football team and the players that we've got. And I'm excited for the future."
Washington went 6-10 in Shanahan's first season and he admitted he had not expected to produce an immediate turnaround at a franchise that last made the play-offs in 2007.
Patience
"We've got the people that I feel give you the chance to make up something special. And that's where it starts. It's not going to happen all in one year or two years," he added.
"I'm still disappointed we didn't win 10 or 11 games. I really believe if we would have stayed healthy - that's not using it as an excuse because we didn't have a lot of depth - I think we could have gotten there."
The Redskins lost to the Philadelphia Eagles 34-10 in their season finale, sealing the team's fourth-consecutive finish in the NFC East basement.
"With all the time that you put in, every time you have a loss, especially with the effort that you put in, it's like somebody sticks a knife in you. It's tough to go through a season like that," said Shanahan.
"Thank God I haven't gone through any like this before. I might not have been in this profession very long. But it's something that really drives you, motivates you.
"It's something that I look forward to doing - putting a great football team together and doing it the right way. And sometimes it takes a little bit longer than sometimes expected."