Orton dumped by Denver
Broncos part company with former starting QB Orton
By Paul Higham Twitter: @SkySportsPaulH. Last Updated: 22/11/11 11:02pm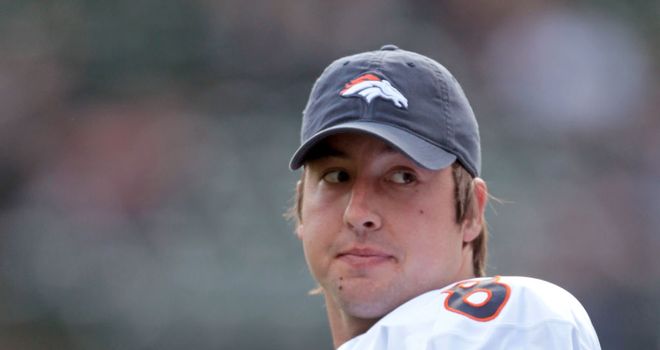 Kyle Orton: On his way from Denver Broncos
American Football Betting

American Football Betting

Free Matched Bet
The Denver Broncos have shown their faith in new starting quarterback Tim Tebow by waiving veteran Kyle Orton.
Orton lost his job as the Broncos starter after the team's 1-4 start to the season, and the switch to the much-heralded Tebow was made during their bye week.
Despite an unorthodox run-first approach, Tebow has defied all his critics by leading his team to four wins out of five to actually now have them still in with a shout of making the play-offs.
Even Denver officials are not totally convinced by Tebow, who only has a 44.8 completion rate on the few times that he does pass the ball, but they have seen enough to get rid of Orton and leave Tebow as the starter with Brady Quinn now number two.
"We just thought it was the best for the Broncos at this time as well as gives Kyle an opportunity to catch on with another team," said Broncos executive John Elway.
Opinion
Nobody has split opinion in the NFL like Tebow has, but that winning habit is hard to find and the Broncos hope to ride him into the post-season, but they are still scouting the top college QBs and could well opt to draft one to fill the space left by Orton.
Denver coach John Fox, who has masterminded the new option defence to fit in with Tebow's style, paid tribute to Orton, who arrived as part of the trade that took Jay Cutler to Chicago.
"I spoke with Kyle earlier today and thanked him for everything he did for the Broncos. He was a true professional throughout this season," said Fox.
"I've got a great deal of respect for him as both a player and as a person. This was the right decision for our football team. We feel good about our quarterback group, and this gives Kyle an opportunity to help another team and showcase his talents."
Orton, who has 67 career starts and had 979 yards passing, eight TDs and seven interceptions this season, is in the final year of his contract and any interested teams would need to pay up the remaining $8.8 million left on his contract to claim him off waivers.
Interest
Orton would become a free agent after Wednesday though, and teams may well be waiting until after the busy Thanksgiving period coming up before making a decision, but there does seem plenty of need for a veteran quarterback around the league.
Ironically, former club Chicago are in need of a veteran QB as Cutler will be out for at least six weeks after surgery on a broken thumb - Caleb Hanie is the largely untested replacement at Soldier Field and Orton still knows many players on the team.
Houston will also find out soon if their starter Matt Schaub will miss the rest of the season, and that could force them into the market for a QB to go along with suspect Matt Leinart, while Minnesota and Miami had enquired about Orton during the summer but now look more settled under centre.
The Kansas City Chiefs have journeyman Tyler Palko starting after losing Matt Cassel for the season, and with them still being in with a shout in the AFC West they could see Orton as an instant upgrade at the position.
The Chiefs have said Palko will start against the Steelers on Sunday, while the Texans have insisted they are confident in Leinart, but with the season entering the critical stage it would only take one bad result to have them looking at Orton as a viable option.