Jets v Broncos Preview
Rex Ryan's men the latest team to try and stop Denver QB Tebow
By Paul Higham Twitter: @SkySportsPaulH. Last Updated: November 17, 2011 12:51pm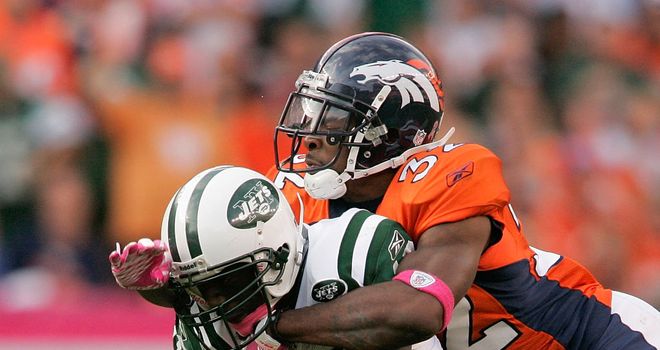 AFC clash: Jets face the Broncos on Sky Sports
American Football Betting

American Football Betting

£10 Free Bet
The New York Jets will be the latest team to try and solve the Tim Tebow conundrum as Sky Sports viewers get a glimpse of Denver's unique quarterback on Thursday night.
The Broncos host the Jets in a crucial clash, with the home side just a game back in the AFC West thanks to their Tebow-led revival and the Jets in danger of slipping out of the AFC East picture after last week's humbling by New England.
Tebow is 3-1 as the starter as Denver moved to an option-style run-first offence which has left everyone scratching their heads - especially last week as he completed just two of eight passes and yet still claimed victory.
It will be a huge contrast for the Jets defence who go from dealing with Tom Brady passing 39 times to a Broncos team that called a whopping 55 running plays on Sunday - their most since 1978.
Rex Ryan's side have celebrated corners but they will not get as much action as last week, as opposed to their 15th-ranked run-defence who goes up against a Denver team averaging a huge 246 yards per game over their last three outings.
Tebow
"It's just a mindset. It's a low-risk offence. It's not an indictment on Tim Tebow or whoever our quarterback is," coach John Fox said of his new run-first strategy. "It's just whatever is working for us. If it ain't broke, don't fix it. We tried to possess the ball and keep our defence fresh."
Tebow is a strong and powerful runner, and the new offence certainly suits his style, but there will surely come a time when he will need to prove his worth with his arm as well as his legs, but for now he still thinks Denver offers problems for opposing defences.
"I think it's just one more thing for people to prepare for," Tebow said. "It's not like we went out there and did a lot (Sunday) but it's something you have to scheme for, you have to prepare for and you have to be sound."
The Jets have not had too long to prep for Tebow, and have been using veteran Mark Brunell in practice to simulate the former Florida man's style - failure to do so will see them slip to 5-5 for the season and in real danger of missing the play-offs.
Ryan will have them fired up to put things right though, after some huge errors last week, including a muffed punt, missed 24-yard field goal and quarterback Mark Sanchez throwing two interceptions and being sacked five times.
Injuries
Third-string running back Lance Ball could again carry the attack for Denver with Knowshon Moreno out for the season and usual starter Willis McGahee struggling with a hamstring injury - so Tebow could have even more running attempts than last week.
The Jets have running problems themselves with veteran LaDainian Tomlinson out with a sprained knee, while safety Brodney Pool (knee), wide receiver Jeremy Kerley (knee) and tight end Shawn Nelson (illness) have all also been ruled out.
Tomlinson scored two touchdowns just over a year ago as the Jets beat Denver 24-20 in their last meeting when Tebow was used solely as a runner - but he did manage to score a touchdown.
While Tebow hardly throws the ball in the new offence, one of his two completed passes last week went for a 56-yard touchdown to wide receiver Eric Decker, so New York's secondary need to keep sharp to avoid being caught out with the few strikes that come their way during the game.
The Jets are desperate, after their three-game winning streak came to a shuddering halt last week, while Denver suddenly are right in the hunt for the AFC West title as they sit in a three-way tie on 4-5 just a game behind leaders Oakland.
Remarkably, Denver will join the Jets on the same record with a win at Mile High, but this looks the sternest test yet for the new Tebow-inspired bucking Broncos.