New England Patriots v Miami Dolphins: Sky Sports previews the big AFC East game on Sunday
By Paul Higham Twitter: @SportsPaulH. Last Updated: 07/09/14 8:04am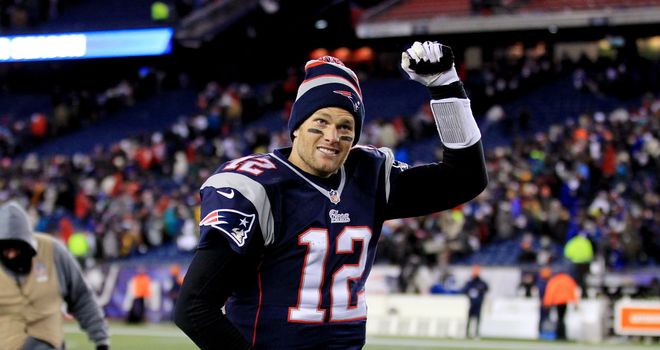 Tom Brady hoping to steer the Pats back to the Super Bowl
American Football Betting

American Football Betting

Bet with Sky Bet
The New England Patriots start their quest for a return to the Super Bowl and a sixth straight AFC East title with a trip to closest divisional rivals Miami Dolphins in the first live Sky Sports Sunday game of the season.
The Pats came within one late Peyton Manning drive of making the Super Bowl last year in their third straight appearance in the AFC Championship game, and they're a short price to make it back there with themselves and Denver the big fancies in the conference.
Tom Brady has enjoyed feasting on the Dolphins over the years, and again they're fancied to make a winning trip to South Florida as Miami start a year they hope will erase any lingering thoughts of the Jonathan Martin saga of last year.
Miami actually pinched their last meeting 24-20 at SunLife Stadium in December, but that was a rare bright spot as the Pats had won the seven previous meetings on the spin – and New England also love the opening weekend fixtures, as they've won the last ten on the bounce.
Brady's desire  
Tom Brady is not getting any younger, having just turned 37, and the window for him winning another Super Bowl title is seemingly closing, but as he showed last year with a badly depleted attack, he's still one of the best around. Closing in on 150 regular season wins, a Brady fourth straight AFC title game looks possible, but it's that fourth Super Bowl ring he wants more than anything.
If Rob Gronkowski and Danny Amendola stay fit and new boys Brandon LaFell and Tim Wright add something extra then Brady will finally have a decent array of targets to throw to, and that spells trouble for the rest. Especially the Dolphins, who Brady has shredded over the years winning 10 of the last 12 games while throwing for 3,428 yards and 26 TDs.
Return of the Gronk?
The monstrous tight end insists he will be on the field Sunday after recovering from his knee reconstruction, coach Bill Belichick is not so sure. Of course, Belichick would say that and expect Gronkowski to return to action in Miami, but it may just be in a limited role with the Pats sure to take their time easing such a crucial player back to full speed.
Tim Wright, acquired from Tampa Bay in the Logan Mankins trade, has already impressed coaches and if he can continue his progression the Pats could revert to the two tight end sets they used so well when Gronkowski partnered Aaron Hernandez. They played 74 percent of snaps in that formation two years ago, when Gronk played all 16 games and scored 17 TDs with 1,327 yards receiving.
Tannehill to climb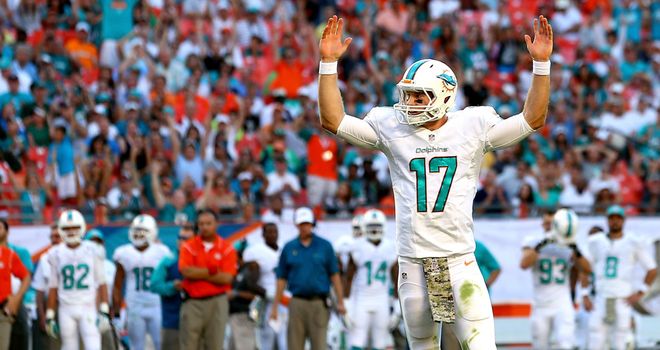 Ryan Tannehill was effective last year despite sack count
It's a big year for the Miami triggerman, with a new offensive coordinator in place in Bill Lazor he'll want to show he is the man for the future. Lazor was QB coach for Nick Foles at the Eagles so he should help Tannehill, who had 3,913 yards passing and 24 TDs last year and 312 yards and three TDs in that last game against the Pats.
Those numbers look even better given Tannehill was sacked a team record and NFL-high 58 times last season, so obviously keeping him vertical has been a major priority in the off-season and Miami have strengthened their offensive line to that end.
Pats defence
Sky Sports Prediction
Patriots 27-14 Dolphins
Another opening day win for Brady and co as they start the latest campaign on the right foot thanks to more help at receiver. A few teething problems for Miami but they should keep it close.
As good and Brady is, he needs his defence to help him out and at times over the last few years they've been sadly lacking in that department, but this off-season has seen Belichick assemble his best-looking defensive unit in years – especially the cornerback combo of Darrelle Revis and Brandon Browner.
Former Seahawks Browner will miss this game and three others through suspension but Revis will make his debut and he gives Belihick some versatility in scheming as the coach looks for his 200th regular season victory. Throw in full fit Jerod Mayo and Vince Wilfork and things look a lot rosier on that side of the ball this year.
Quotes
"I'm ready to go. I'll be playing. I'm definitely not playing every snap but just get out there, get my feet wet, whatever we game-plan this week, will be good," Rob Gronkowski on his availability.
"Well, I'm glad that Rob's optimistic about his situation. With all due respect to Rob, I'm glad he feels the way he does. We'll have to make the decision that we feel is best for the team and we'll do that as we go through the week," coach Bill Belichick on Rob Gronkowski's availability.
"You've seen it last year with the Philadelphia Eagles. They obviously had one of the best offenses in the NFL. We're hoping to go out and do the same thing with our offense. We've got the playmakers to do it," Mike Pouncey on Miami's approach.