NFL: Jimmy Graham to be classed as tight end for New Orleans Saints franchise tag
Last Updated: 03/07/14 10:56am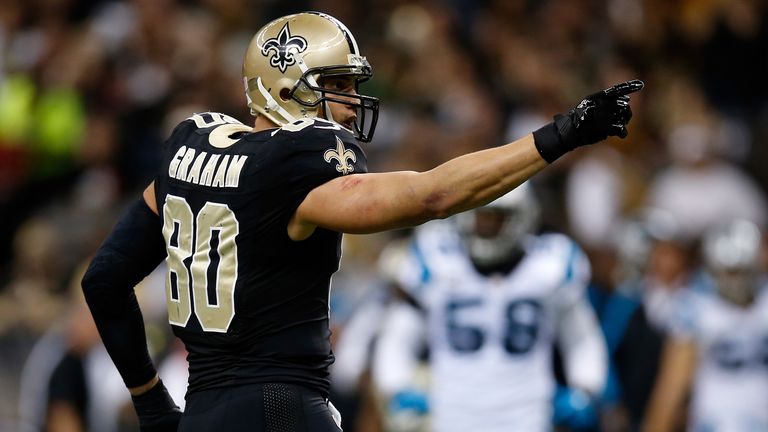 Jimmy Graham has lost his case to be classed as a wide receiver in order to receive more money from the New Orleans Saints, with an arbitrator ruling he indeed should be classed as a tight end.
With no deal agreed on a new contract for next season, the Saints placed the franchise tag, which is worked out on which position players play in, on Graham which would be pay him just over $7m next season.
However, that is when he is classed as a tight end, but Graham filed a grievance with the NFL to be classed as a wide receiver as he lined up in that position so many times during the season.
The receiver franchise tag would have netted him $12.3m next season, but arbitrator Stephen Burbank has ruled that he should be classed as a tight end as he lined up closer to the line of scrimmage than regular receivers.
Saints coach Sean Payton pointed out during the hearing that Graham is covered by the opposition as a tight end, while Graham was also drafted as a tight end and even on his own Twitter page he calls himself a tight end.
The concern now for the Saints is how Graham will react to the ruling – he has until July 15 to sign a long-term contract with the team before the franchise tag kicks in.
Long-term deal
New Orleans still believe they will agree on a long-term deal with Graham before the deadline, using the new ruling as a guideline for salary talks – and they will be especially keen given reports Graham would be loathed to sign the franchise tender.
That could see one of the team's best players missing training camp and even the start of the season in protest, in the worst case scenario, but with both parties keen to confirm his future they will be hoping for a swift resolution.
Be it as a receiver or a tight end, Graham is one of the most dangerous players in the league, scoring 16 touchdowns last season in 16games, although he only started 12 when struggling with injury.
Graham is one of the new breed of pass-catching tight ends that are transforming the position from blocker and occasional receiver to real offensive weapons.
Many from basketball backgrounds like Graham and the pioneering Tony Gonzalez, the likes of Vernon Davis, Rob Gronkowski and Julius Thomas have been dominating the league in recent seasons, providing nightmares for defences with the combination of size and speed.
This ruling on Graham will be used as a precedent for future franchise tag disputes, but it may well be that a new player designation may be needed to qualify pass-catching tight ends from the regular blocking types.