NFL: Jonathan Babineaux promises Atlanta Falcons will 'put on a show' at Wembley
Last Updated: 01/04/14 7:28pm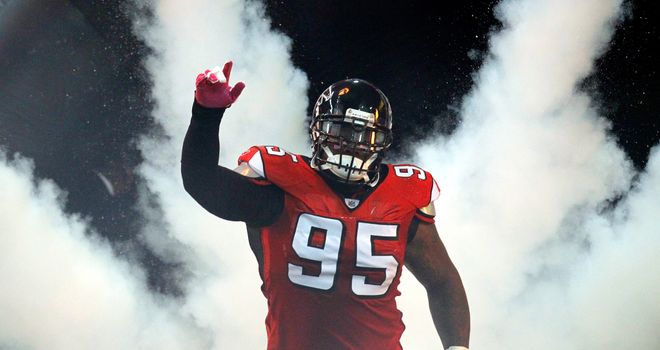 Jonathan Babineaux: Wembley trip with Atlanta Falcons next season
American Football Betting

American Football Betting

Bet with Sky Bet
Atlanta Falcons defensive tackle Jonathan Babineaux is excited about the prospect of playing in a "Super Bowl-type atmosphere" at Wembley next season.
The NFL's International Series expands again in 2014 with the Falcons taking on Detroit Lions on October 26 in one of three regular-season games being held in the space of six weeks at the London venue.
Babineaux, a nine-year veteran who has spent his entire professional career in Atlanta, made a recent visit to London along with Minnesota Vikings centre John Sullivan to meet with British NFL fans. Sullivan was part of the Vikings team that beat Pittsburgh Steelers at Wembley last year.
"It's my first time over to London and I love what I've seen," Babineaux said. "I love the history and culture over here and the people have been very welcoming.
"I'm already looking forward to coming back over in October to display my talent along with my team-mates. We're going to come out here, have a good time and put on a show for the UK.
"I've been getting an insight from John Sullivan about what to expect and he says the atmosphere is like playing in the Super Bowl. I've not played in a Super Bowl, so this is the next best thing."
Franchise
Sullivan has happy memories of his Wembley appearance and thinks a full NFL franchise in London is a future possibility. 
He said: "It was absolutely positive, the first time for many of us playing outside our home country. To be part of the International Series makes you an ambassador for the sport of American football.
"Going to Wembley, the English national soccer team's stadium, was an amazing experience.
"The NFL are increasing the number of games in London, all three this year are all sold out and there is talk of a fourth in 2015. You would have to think that getting a franchise over here is where they would like to go with this."