Super Bowl analysis
Sky Sports looks back at how the Seattle Seahawks won Super Bowl XLVIII in New Jersey.
By Paul Higham Twitter: @SkySportsPaulH. Last Updated: 05/02/14 6:57pm
American Football Betting

American Football Betting

Bet with Sky Bet
Looking back at it, Super Bowl XLVIII was over as a contest after just 12 seconds, when Denver fluffed their very first play of the game to hand Seattle an early 2-0 lead - and that set the tone of what was to come.
Both teams had looked calm and confident all week long, but it was only the Seahawks who carried that onto the field at MetLife Stadium and they did exactly what coach Pete Carroll wanted to in one of the most complete team performances ever seen in the big game.
In the fifth battle of No 1 defence versus No 1 offence the defensive giants are now 4-1.
The old adage of 'defence wins championships' will now be rolled out again, and this win was built on that defence, but on this day, in this game, Seattle just put it together in all phases of the game - they're the first team to score a rush, pass, interception return and kick return touchdowns in the Super Bowl.
Carroll's energy and enthusiasm are infectious, and his team plays like that in all phases. It's especially noticeable on defence where their secondary swarm and fly around into every tackle, but every players chases every ball until the play is dead - every single play.
Their spirit also comes from their special relationship with their supporters - the 12th man as they call them - the 12s were out in force at MetLife and made a hell of a noise. But it'll be nothing compared to their victory parade back home after winning their first ever Super Bowl and only their second trophy in American sport after a 35-year gap.
Better prepared
Their '12s' theme was especially ironic given that Seattle scored 12 seconds into each half - and both of those scores were daggers to the heart of Denver, who in truth never recovered from that shakiest of shaky starts.
Peyton Manning won a fifth league MVP the night before this game, but he looked anything but during the match-up. The fact is Denver hasn't faced a defence like Seattle all season, the NFC West is becoming a fearsome battleground and you'd still fancy Seattle or San Francisco to be in the mix again next year.
Manning was hassled and harried all night, the fact he managed to get a Super Bowl record of completions and Demaryius Thomas had a record number of catches just showed his class, but it was never going to be enough.
Game MVP Malcolm Smith's pick six was a result of Cliff Avril getting in Manning's face, Seattle also took away Denver's running game, while some Kam Chancellor in particular put some bone-crunching hits on the star-studded Broncos wideouts.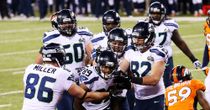 Seattle Seahawks dominated the Denver Broncos
In contrast, second-year QB Russell Wilson was serene and supreme. He's far better than the game manager he's wrongly labelled as at times. Yes, he plays behind an awesome defence but he takes care of the football - which is key to Seattle's game and under the biggest pressure of his life he delivered, making the right plays at the right times.
Experience
Seattle had no Super Bowl experience at all in their club, but that seemed to matter little, in fact it seemed to help them as they played with a care free abandon while Denver looked tight, looked nervous, and in truth got bullied out of it from the get-go as they failed to measure up to the sheer physicality and brutality the Seahawks bring to the party.
Percy Harvin added a spark on offence with his remarkable kick-off return touchdown, and he also led the team in rushing despite gaining just 45 yards - while the unheralded pair of Doug Baldwin and Jermaine Kearse both produced the goods.
For Denver, and Manning, it's a monumental blow. He joined the Broncos to win Super Bowls, they suffered play-off heartbreak last year against Baltimore and this shellacking will take a long time to get out of their system.
But as bad as Denver were, Seattle must get all the plaudits for putting together an astonishing performance. They didn't put a foot wrong, they outplayed the Broncos in every department, every battle they had to win they did - the only minor fault was not achieving the first shutout in Super Bowl history.
Still, a sport-mad city craving success will be able to celebrate a rare victory and a fully deserved one. They'll have a target on their backs next season, but the way they play they'll probably relish that. And with the talent and age on this team this could just be the start of something special in Seattle.