Super Bowl XLVIII: Build-up to the big game in MetLife Stadium in New Jersey
By Paul Higham Twitter: @SkySportsPaulH. Last Updated: 02/02/14 7:52am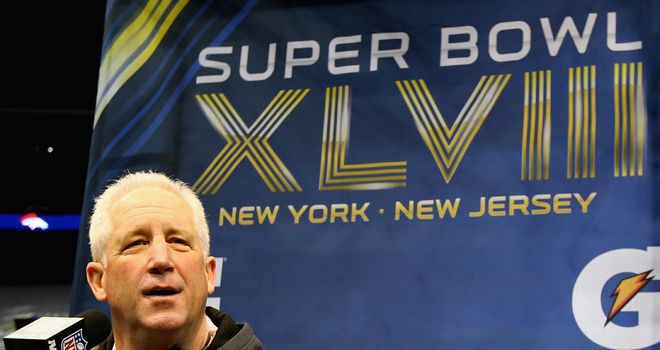 John Fox at Media Day
American Football Betting

American Football Betting

Bet with Sky Bet
All week long our Sky Sports NFL team has been in New York and New Jersey bringing you a flavour of the NFL spectacular.
The Seattle Seahawks take on the Denver Broncos at MetLife Stadium but the Super Bowl is much more than just a game - it's a week-long event.
As all the action has unfolded, we've been out in New York and New Jersey from Media Day up until the final coaches press conference head-to-head on Friday.
Now we're all set for the big game, take a look at some of the build-up to get you in the mood.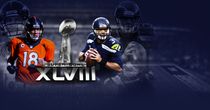 Big game Preview
The Seattle Seahawks have the best defence in the NFL and the Denver Broncos have the best offence - something's got to give! But what will prove to be the difference? After spending the week in and around both teams, Paul Higham supplies the big game preview.
Party atmosphere ahead of Super Bowl
Party atmosphere
The Super Bowl has taken over downtown New York, with Times Square awash with fans of both the Seattle Seahawks and Denver Broncos as they arrive in town to cheer on their team. Richard Graves has been in amongst it all for Sky Sports News to sample the atmosphere around Broadway. There's plenty going on as the NFL always ensures that fans have plenty to keep them busy.
Best of Super Bowl Media Day
Media Day
Always a highlight of the week - both teams all appear for an hour each in front of the world's media and some weird and wacky questions and outfits always pop up. This year the big story was Seahawks running back Marshawn Lynch hiding from the press! He did say a few words eventually though but it was still one of the stranger acts from a player in the history of Media Day.
Aikman - Peyton has nothing to prove
Chat with a legend
If anyone knows how to win a Super Bowl it's former Dallas Cowboys quarterback Troy Aikman - who will also be calling the game for Fox on Sunday. Big Cowboys fan Richard Graves just about manages to hold his nerve chatting to his hero as Aikman gives his verdict on Peyton Manning, who like him is among the best quarterbacks in the history of the NFL.
Top 10 Seahawks
They've had an amazing year winning the tough NFC West and making it all the way to the Super Bowl - and they've had some huge plays from Lynch, Russell Wilson and Golden Tate - but what made the Top 10. They've got the best defence in the business as well so expect plenty of big D in the mix as well in their own highlight reel from the NFL.
Top 10 Broncos
How do you narrow it down just to ten when the Broncos have scored more points than anyone else in history! Well it has to be done so expect a health dose of Peyton Manning in their Top 10 rundown. And with so many receiving options then you'll see a lot of different faces catching his TD passes in what was a record year all round for Denver.
From the Super Bowl to the Showdown on MNF, it's a great weekend on Sky Sports. Click here to upgrade