Super Bowl XLVIII: Predictions for Denver Broncos v Seattle Seahawks
By Paul Higham Twitter: @SkySportsPaulH. Last Updated: 01/02/14 1:31pm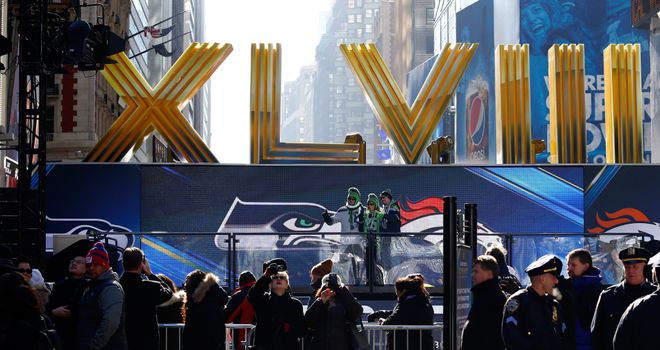 Fans enjoy Super Bowl Boulevard on January 30, 2014 in New York City
American Football Betting

American Football Betting

Bet with Sky Bet
It's the top two teams in the NFL going head-to-head, it's serious business, but there's always some fun to be had when predicting just what will happen in the greatest show on Earth.
All the focus on Sunday is on MetLife Stadium in New Jersey, and while the Denver Broncos and Seattle Seahawks rightly take centre stage, there's so much going on around the game that it'd be wrong not to try and make some not-so-serious predictions.
So just what could happen at Super Bowl XLVIII?
Manning rides off into the sunset
On the field, Peyton Manning is the star man, without question. He's one of the best QBs of all time and has just had the best season of all time in the best offence of all time, and all this coming after four neck surgeries and at 37.
The word legacy gets thrown at Manning far too much, everything about his stats and his play say he's as good as it gets as an NFL quarterback, but having just one Super Bowl win is not enough for some people - that could change on Sunday - with Denver 4/5 favourites to win.
Manning is a shoe-in for the MVP if Denver win, but could he be persuaded to then call it a day? He has a check-up on his neck in March, if the results are not quite there, and he has to go back into another arduous training camp you wouldn't blame him for wanting to go out on a high.
Manning to win Super Bowl & then retire before 2014 season 12/1
The Shermanator
Richard Sherman has made a huge impact in recent weeks, firing his shirt sales through the roof, but as well as just smack talk he is one of the best cornerbacks in the league, although he does sail close to the wind at times.
With emotions flying, and with some tough Denver receivers in his face, Sherman and his Legion of Boom mates will want to set an early tone and they love to rough up receivers sometimes beyond the margins of the rules - that could see some yellow on the field.
Sherman to be flagged for unsportsmanlike conduct/taunting 7/2
Touchdown central
You may fancy Denver to really cut loose, and if the game does start to get anywhere near a shootout that would suit Denver down to the ground. The are, after all, the highest scoring offence in NFL history, so it's not much of a stretch.
They're the only team ever to have five players score 10+ TDs and four of them are receivers who love finding the end zone, so if Manning starts to figure out the Seahawks defence early, it could get ugly.
J Thomas, D Thomas, Welker & Decker all to score a TD 50/1
Pick Six
Will Seattle have the last laugh? Peyton's arm isn't the strongest, the Seahawks have the speediest secondary in the business and Sherman led the league in interceptions this season, if Manning tries to be too clever too soon he could be in trouble.
Manning to throw a pick six 7/2
Silent night
Marshawn Lynch has made the headlines all week with his loathing of public speaking, or speaking to the media at least, with his bizarre antics and press availability and Media Day - he's all about business, but will that crack if he has the game of his life?
Lynch wins MVP & doesn't give a speech 25/1
Cry baby
OK, so we're pushing it a bit now, but Knowshon Moreno has form for this - he was streaming tears at a recent Denver game during the anthem. He's been hyped up all week, it's the biggest game in the world, and what's more it looks like being his last one for Denver, that even brings a tear to my eye.
Moreno to cry during the National Anthem 5/2
"From the Super Bowl to the Showdown on MNF, it's a great weekend on Sky Sports. Click here to upgrade "