Super Bowl XLVIII: Denver Broncos coach John Fox deserves more credit for comeback
Our man in New York Paul Higham says Denver coach John Fox's story deserves more headlines.
Last Updated: 30/01/14 3:43pm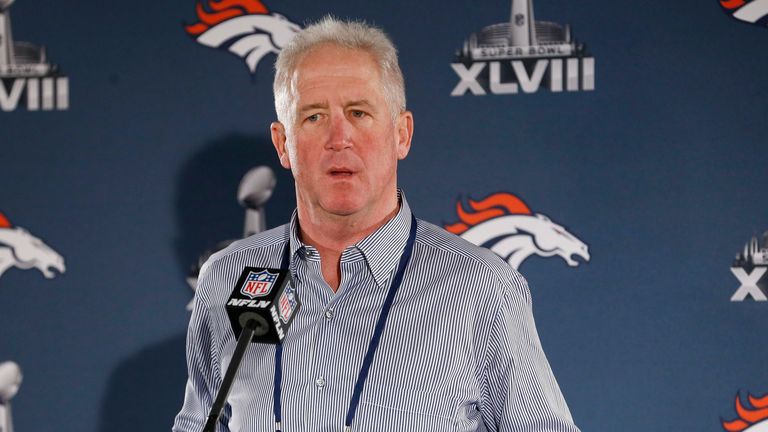 Super Bowl Sunday will mark exactly three months to the day that Fox fell ill playing golf in Charlotte during a bye week and later required heart surgery on his aortic valve.
Remarkably he missed just four weeks of action, when Jack Del Rio stood in admirably, but this week the likes of Peyton Manning and Wes Welker have been keen to point out what an inspirational leader Fox is.
Fox is joining an elite band of just six coaches to take two different teams to the Super Bowl, after his Carolina Panthers lost out to the Patriots a decade ago. And his pearl of wisdom from leading a team to the big game ten years ago was typical Fox understatement.
"I remember that you don't want to lose," said Fox. "I'm really just soaking this one in this time. I'm very proud of this bunch, just like I was with the Carolina team."
Humble
The main reason Fox's remarkable return from his health scare not being major news is that Fox himself doesn't want it to be, he smiles awkwardly when the question arises again, and again, and is always playing down the seriousness of the situation.
"Really it's been a blessing, I'm 180 per cent better than I was," Fox said. "I'm way better now physically than I've been the last 10 years of my life. It's really been an upgrade. I feel tremendous."
The all-encompassing role of a head coach in the NFL may have contributed to Fox's illness, although it's impossible to be 100 percent sure, but Texans coach Gary Kubiak also suffered with a mini-stroke during the season.
Quarterback Manning may be Denver's marquee name, but although he praised Del Rio for his role as stand-in he made it clear that Fox has been the driving force behind the team.
"Coach Fox sets the tone, we all prayed for him when he had his surgery and although Jack did a great job we were delighted to get coach Fox back when we did," said Manning during one of his many glowing tributes to his coach.
Leader
"He is the leader of this team, he gives us our identity and I've got no doubt in my mind we're in the Super Bowl because of coach Fox."
Wide receiver Wes Welker agrees with his quarterback: "Coach Fox is very inspirational, a very motivational type of guy. The energy brings to the team is great. He's just a great man and I'm glad he's our coach and our leader.
"I wouldn't say he was different at all when he came back, he came back feeling healthier than he was before. We were worried about him and we just said we'll take care of things our end so he can just come back when he was ready."
Fox has led Denver to the play-offs in all three season in charge, and has built the best offence the NFL has ever seen, so a victory over Seattle would be a good reflection of his coaching ability as well as the kind of feel good story we all like to see in sport.
He's one of the good guys, and after just failing to grab the Vince Lombardi trophy ten years ago, nobody would begrudge him success the second time around after the year he's had.