We look at the key players to watch ahead of Sunday's Jags-49ers clash at Wembley
By Jesse Beller. Last Updated: 24/10/13 3:01pm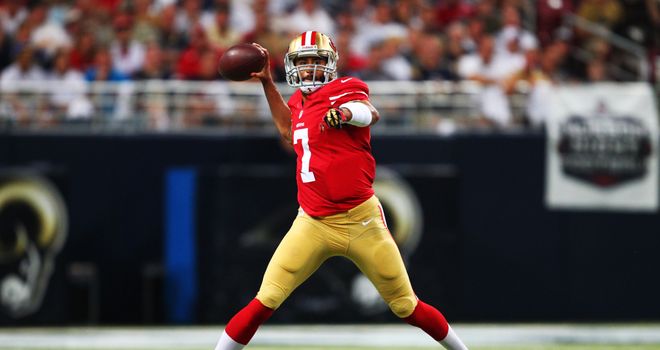 Colin Kaerpernick is one of many players to watch in Sundays 49ers-Jags clash
American Football Betting

American Football Betting

Bet with Sky Bet
Sunday afternoon at Wembley, the Jacksonville Jaguars "host" the San Francisco 49ers.
The Niners are riding a three game winning streak as they attempt to get back to the Super Bowl just one year after losing to the Ravens in New Orleans. The Jags, on the other hand, remain winless and are on pace to finish 0-16, tied for the worst record in NFL history. However, both teams still have talent, and so it is time to look at the players to watch in this Sunday's edition of the NFL International Series:
Colin Kaepernick, QB, San Francisco
Kaepernick took over for a concussed Alex Smith in Week 10 of the 2012 season and promptly led the 49ers to within a play of the Super Bowl. Kaepernick has continued to blossom in his second true season leading the Niners, and grades out as the seventh best quarterback by Total QBR through 7 weeks (67.0). Kaepernick has a howitzer for an arm, but he is still learning to control it and, more importantly, how to dissect an NFL defense. The Niners unleashed Kaepernick against the Packers in the Wild Card round of last year's play-offs, using a read-option offense to spring Kaepernick for 181 yards rushing - the most in NFL history for a quarterback in a single game. The Niners have been cautious with using Kaepernick as a runner this season, but the threat remains. Look for Kaepernick to put up points against a weak Jaguars defense.
Vernon Davis, TE, San Francisco
The main beneficiary of Kaepernick's emergence has been tight end Vernon Davis. Always a physical marvel, Davis' on field performance has never truly matched his athleticism. With Michael Crabtree out with a torn Achilles, Davis has been the Niners best receiver, ranking as the NFL's fourth best tight end by total value through seven weeks, and tying for second with six touchdowns. Davis should have the run of the Jaguars secondary, so look for a couple more to be added to that total.
Frank Gore, RB, San Francisco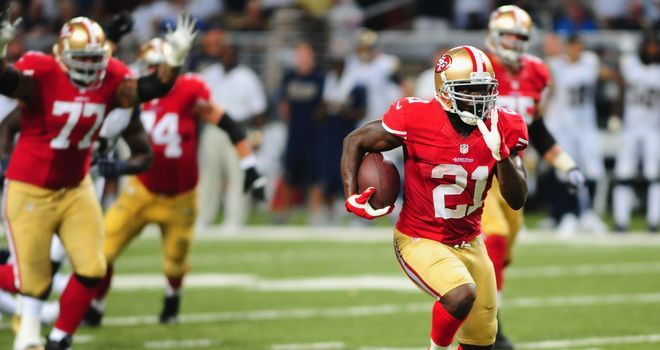 Frank Gore will look to gash the Jaguars front seven
Even with the emergence of Kaepernick, the Niners remain a run-first offense. When the running game is not going smoothly - this season's first three games for example - the Niners struggle on offense. When the line is opening holes and Gore is running down hill, the wins come easily (4-0 in last four games). Gore is getting older, and thus his carry total is down, but he remains one of the NFL's best runners. Gore should have no problems with the Jags, though look for his one on one match-ups with Paul Posluszny if they do happen.
Patrick Willis/NaVorro Bowman, LBs, San Francisco
Willis and Bowman are the heart of the Niners' bruising defense. Willis, a Pro-Bowler ever year in the league and unquestionably the league's leading middle-linebacker, has missed games with injury this year and his value to the Niners was shown when he missed most of the second half in a loss to the Colts. Bowman is the overlooked, but almost equally excellent, inside partner (and fellow All-Pro) to Willis. Bowman had a coming out party in the Niners' win against the Rams with Willis out injured - 6 tackles, 2 sacks, a forced fumble and a pass defended. Willis and Bowman are the league's best linebacking duo and should dominate a weak Jags offensive line.
Justin Blackmon, WR, Jacksonville
Blackmon, the fifth pick in the 2012 NFL Draft, has been excellent as the Jaguars' primary receiving option since returning from suspension. Blackmon does not excel in any physical category, but he is an excellent volume receiver who knows how to find holes in a defense. He will have to deal with an excellent Niners secondary, and likely double-teams, but based on how many times he is targeted (20 against the Broncos), he should still put up large numbers.
Paul Posluszny, LB, Jacksonville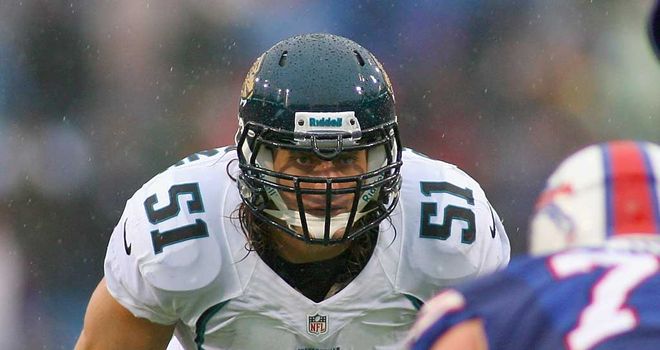 Paul Posluszny leads the Jaguars defense
Posluszny is the heart and soul of the Jaguars defense. Easily its best player, "Poz" is a tackling machine - racking up a franchise record 231 in 2012. Posluzny excels against the run, so look for him to almost live in the box against the strong Niners running game. He should have his hands full, and if the Jaguars want to have any chance of winning, they need Poz to step up and have the game of his life.
Maurice Jones-Drew, RB, Jacksonville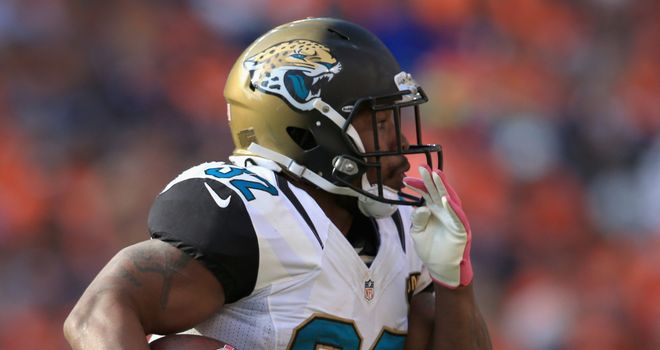 Maurice Jones-Drew faces a stiff challenge in the Niners defense
Once the franchise man for a play-off team in Jacksonville, MJD has sunk to new lows this year, ranking only 25th in the NFL by DYAR. This is mostly not his fault, as the combination of dreadful quarterback play and a porous offensive line (that has only gotten worse with the trade of Eugene Monroe and the loss of Luke Joeckel to injury) has led to eight and nine man boxes and plenty of short runs. MJD will be a free agent at year's end, and as a small ("Pocket Hercules"), ageing, running back he likely is not going to get the $15 million guaranteed he was hoping for just two years ago. There have been clamours for a trade for MJD, and it remains a distinct possibility, so consider Sunday a showcase for his talents. The Jaguars will pound the ball to set up play action and take pressure off quarterback Chad Henne. It has been a down year for MJD, but he still has highlight-reel worthy talent.