NFL: Denver Broncos lose unbeaten record as Indianapolis Colts spoil Peyton Manning's return
We look at how the Colts spoiled Peyton Manning's perfect season and ruined his homecoming in Indy.
Last Updated: 22/10/13 8:40am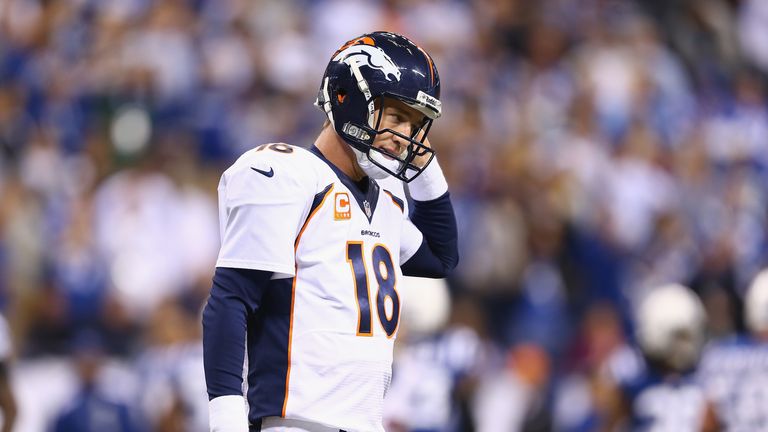 Rarely in the NFL does a future Hall of Famer return to his old team, still in prime form and challenging for a Super Bowl, but that was exactly the case when the four-time MVP brought his unbeaten Denver Broncos back to Indy.
Lucas Oil Stadium is known as the 'house that Peyton built' after he helped turn the team's fortunes around during 14 record-breaking seasons - and the team paid tribute to him before the game with a video montage and a rousing reception from the fans.
Once the game started, though, the Colts swarmed all over Manning, who never really found his rhythm as the Broncos tasted defeat for the first time this season in a 39-33 - but the returning hero insisted he was not distracted by his homecoming.
"I don't feel it was distraction by any means, I was fully prepared to play," Manning said. "Like I said, I was probably a little more tired coming into the game than I have been coming into some others. I guess that's probably just natural."
Denver had looked near-on invincible through six weeks of the season, but their fantasy offence was rattled by the Colts defence, with Manning in particular struggling with a rare interception and an even rarer fumble out of the back of the end zone for a safety.
Back to reality
"This is a game we need to learn from," Manning admitted. "We, I guess, had four turnovers and still somehow had a chance to win that game. We certainly have to improve from this game, because we weren't as sharp, execution-wise, as we'd like to be."
Such is the NFL, the powerful Broncos, who have just lost their first regular season game after 17 straight wins, now aren't even top of their division thanks to the surprising 7-0 Chiefs topping the AFC West, and all of a suddenly question marks are being raised by the bucket load.
Manning's arm strength has been debated ever since his neck surgery, and even when he was carving teams apart and piling up gaudy stat lines, he was not throwing the ball deep. The Colts covered his receivers tightly on Sunday and when Manning was forced into risky throws and several of them sailed off target or fell short.
Of course, Manning eventually figured out a way around it, and his response after the game was pretty good.
"I throw a lot of wobbly passes," he said. "I throw a lot of wobbly touchdowns, too."
Pressure is what opposing defences will now try and bring when facing Manning's Broncos - especially if they continue to struggle with injuries on the offensive line, which undoubtedly played a part in Manning being hit ten times and sacked four.
Manning had only been knocked down seven times in the previous five weeks and that added pressure clearly rattled the veteran during the first three quarters of the game as Denver, without their starting left tackle and centre already, again juggled the O-line but were beaten up by the Colts.
Defence
Defence may ultimately be Denver's undoing though, with the Broncos dead last in pass defence heading into the Colts game and an overall unit that has leaked 35 points per game and an average of 419 yards over the last three weeks.
Returns of Vonn Miller and Champ Bailey were seen as the answer, but Bailey limped out of the Colts game and Miller made just two tackles - and while there's hardly a doubt Manning will get right back to his best it's the defence that must realty step up to get Denver back on track.
If they were in anything else other than the AFC West they'd still be in prime position, but their two games coming up against the unbeaten Chiefs now take on even more significance - with top spot in the division and home field advantage in the play-offs being such a huge prize.
The Chiefs have one of the best defences in the league, giving away the least points of anyone in the NFL, and they make very few mistakes with the ball, so all of a sudden from being billed as invincible, the very mortal-looking Broncos have plenty to think about.